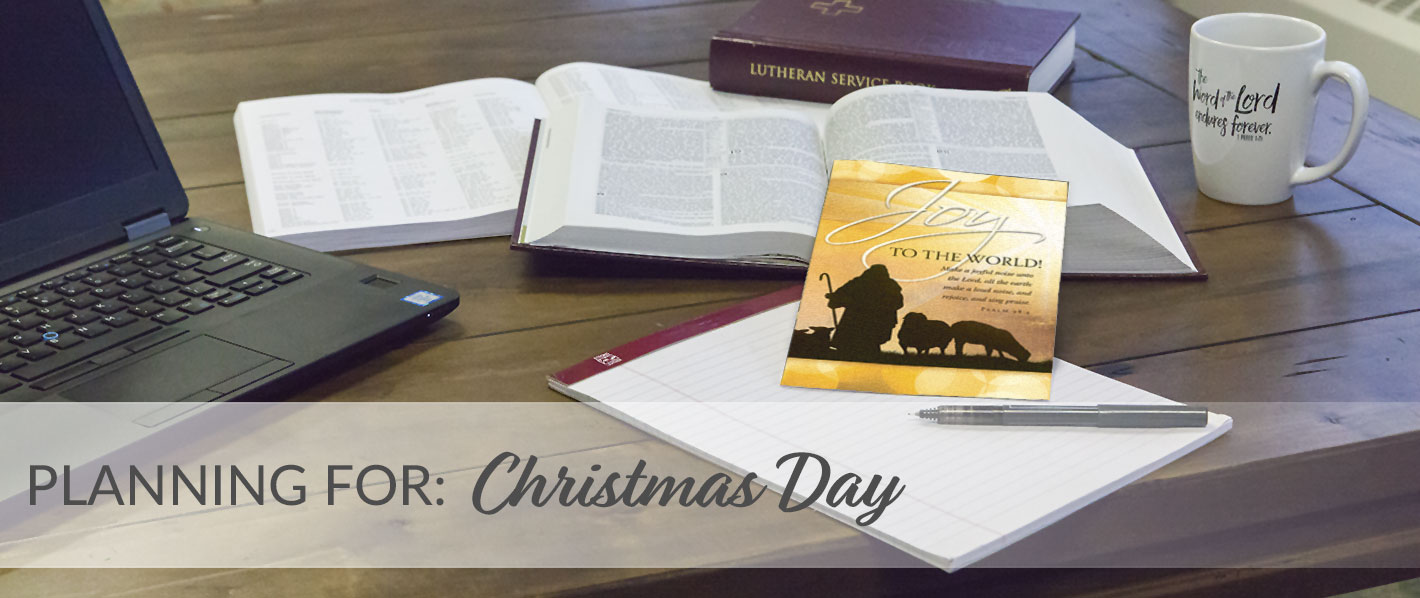 Learn more about the readings, music, and worship-service planning helps for Christmas Day.
Season & Preparations
Merry Christmas! As you may have had two entirely different services on December 24 for Advent 4 and Christmas Eve, preparing for Christmas Day may be energetically challenging. The colors of the sanctuary remain white, as they were for Christmas Eve. All five candles of the Advent wreath are lit once again. The only choice for a difference in decoration is that some congregations choose to further beautify the Advent wreath with the addition of flowers on Christmas Day. Your local customs may differ. Christmas Day may be the day you ask people to take their poinsettia plants home, so that may be something for which to prepare.
Readings & Theme
As was the case for Christmas Eve, there are two lectionary choices for Christmas Day. You can choose either the Christmas Dawn readings or the Christmas Day readings. This may depend on what you chose for Christmas Eve, as the Gospel for Christmas Midnight and Christmas Dawn are the same (Luke 2:1–20). The only difference for the Gospel is that for Christmas Midnight verses 15–20 are optional, and for Christmas Dawn verses 1–14 are optional. The Psalm, Old Testament, and Epistle all differ from Christmas Midnight to Christmas Dawn. In my experience, most congregations choose the Christmas Midnight readings and the Christmas Day readings apart from the lectionary, but, of course, your local customs may differ.
The Christmas Dawn Holy Gospel from Luke 2 is the most detailed account of Jesus' birth, with angels praising God and revealing the good news of Jesus' birth to the shepherds, who in turn go to visit Jesus. Jesus is identified by the angels as Savior, Christ, and the Lord. In the Old Testament Reading from Isaiah 62, God speaks of salvation coming in the form of a person, and the people will be called "The Holy People, The Redeemed of the LORD; . . . Sought Out, A City Not Forsaken" (v. 12). The connections between what Jesus is called and what His people are called may be a fruitful path to pursue. The Epistle from Titus 3 may also be a good connection to such renaming. It is often a text associated with Baptism, as it states, "He saved us . . . according to His own mercy, by the washing of regeneration and renewal of the Holy Spirit, whom He poured out on us richly through Jesus Christ our Savior" (vv. 5–6).
If you choose the Christmas Day readings instead of the Christmas Dawn readings, your Gospel will be from John 1, which speaks of the Word becoming flesh and dwelling among us. This reading is packed with theological significance. There are themes of life, light, grace, truth, witness, creation, and much more. If you focus on creation themes, the Epistle from Hebrews may help. Hebrews 1:2 is strongly connected to John 1:3. The Old Testament Reading, which is from Isaiah 52, showcases the revealing of God's salvation, which we see in Jesus' incarnation.
These readings are all packed with the good-news themes of the Christmas season.
Hymns & Music
The suggested Hymn of the Day for Christmas Dawn is "Come, Your Hearts and Voices Raising" (LSB 375), a German hymn by one of Lutheranism's greatest hymnwriters, Paul Gerhardt. Stanza 4 is quite stunning:
From the bondage that oppressed us,
From sin's fetters that possessed us,
From the grief that sore distressed us,
We, the captives, now are free.
The suggested Hymn of the Day for Christmas Day is "We Praise You, Jesus, at Your Birth" (LSB 382), a text that was largely written by Martin Luther. Stanza 4 begins, "The Light Eternal, breaking through, Made the world to gleam anew," which connects very well to the creation themes of John 1 and Hebrews 1.
Christmas is a short season with many good hymns. My suggestion for Christmas hymn selection is to plan out which hymns will be in each service, avoiding overlap and doing your best to not forget anything people will miss.
Additional Resources for Worship & Study
If you're looking to learn more about Christmas music, the book Sacred Songs of Christmas is a great resource for families and music-lovers alike. The book includes hymns, Scripture readings, and history about the Church's Christmas celebrations throughout time. An MP3 of each hymn featured in the book is also available for download.
---
Looking for additional information on planning for Christmas Day? Download our planning sheet to help you get started!
Scripture quotations are from the ESV® Bible (The Holy Bible, English Standard Version®), copyright © 2001 by Crossway, a publishing ministry of Good News Publishers. Used by permission. All rights reserved.
Quotation from LSB 375 copyright © 1941 Concordia Publishing House. All rights reserved.
Quotation from LSB 382 copyright © 1978 Concordia Publishing House. All rights reserved.