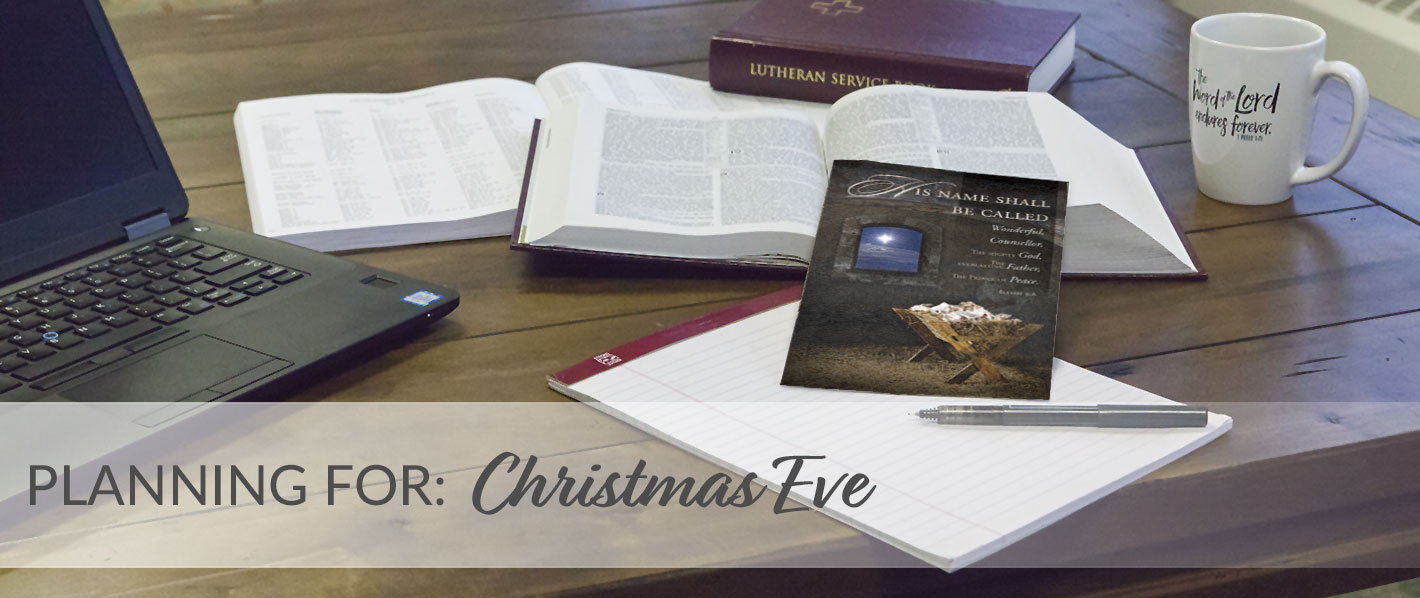 Learn more about the readings, music, and worship-service planning helps for Christmas Eve.
Season & Preparations
Merry Christmas! Christmas is a season of joy and wonder. God sends His Son to dwell among His people, and He chooses to do this in a normal yet wholly unexpected way: He is born as an infant. Christ does not come in might and power and in the sight of all, but in humbleness and obscurity. The King of all creation chooses to become a dependent infant.
As Christmas Eve falls on a Sunday in 2017, there is the rare challenge of having to change paraments during the day. The morning services for Advent 4 use blue or violet paraments, and the evening services for Christmas Eve turn to white paraments.
If you have been using an Advent wreath, continue its use this evening, lighting all four Advent candles as well as a white candle in the center, if you are using one. While local custom may differ, the book Gathered Guests tells us, "A larger center white candle may be lit on Christmas. It should not be confused, however, with the paschal candle, which should be reserved for the season of Easter, for Baptisms, and for funerals" (p. 292). This white candle requires no decoration.
Readings & Theme
Your local custom may differ in regard to which readings are chosen. The lectionary lists separate readings for Christmas Eve and Christmas Midnight. The Christmas Eve Gospel is Matthew 1:18–25. The Christmas Midnight Gospel is Luke 2:1–14 (15–20).
If you go with the Christmas Eve lessons, you will focus on the prophecy in the Old Testament Reading from Isaiah 7 that Matthew quotes: "'Behold, the virgin shall conceive and bear a son, and they shall call His name Immanuel' (which means, God with us)" (Matthew 1:23). These two lessons paired with the Epistle from 1 John 4 focus on God's love and abiding presence with His people.
If you choose the Christmas Midnight lessons, the Gospel will lead the way with its familiar story of the angels and the shepherds, and of Jesus being wrapped in swaddling cloths and laid in a manger. It may be your congregation's custom to read this lesson from the King James Version of the Bible, so be aware of that as you print the lessons in the bulletin.
The Old Testament Reading for Christmas Midnight is from Isaiah 9 and contains these words in verse 6: "For to us a child is born, to us a son is given; and the government shall be upon His shoulder, and His name shall be called Wonderful Counselor, Mighty God, Everlasting Father, Prince of Peace."
Considering the occasion, the Epistle from Titus 2 is seldom the subject for sermons, but the opening line in verse 11 fits the occasion nicely: "For the grace of God has appeared, bringing salvation for all people."
Hymns & Music
This is one occasion on which you likely don't need much advice regarding hymn selection. Many congregations will begin worship with "O Come, All Ye Faithful" (LSB 379), utilize "Silent Night, Holy Night" (LSB 363) with candlelight (and perhaps in German), end with "Joy to the World" (LSB 387), and intersperse other familiar hymns such as "Hark! The Herald Angels Sing" (LSB 380), "What Child Is This" (LSB 370), and "O Little Town of Bethlehem" (LSB 361). Your congregation likely has a custom for which Christmas favorites are sung Christmas Eve and which are sung Christmas Day.
The Hymn of the Day for Christmas Eve is actually "Lo, How a Rose E'er Blooming" (LSB 359). For Christmas Midnight, it is "From Heaven Above to Earth I Come" (LSB 358), a Martin Luther hymn. These may be a part of your congregation's traditions, or they may not.
Christmas is a short season, so my suggestion for Christmas hymn selection is to plan out which hymns will be in each service and make sure you are not forgetting any that people will miss.
Additional Resources for Worship & Study
Concordia Commentaries are available for both the Matthew 1 and Luke 2 texts. If your Sunday School or children's ministry group is looking to contribute in a special way to a Christmas Eve service, take a look at this year's Christmas program, From Heaven Above, which is based on Martin Luther's beloved hymn "From Heaven Above to Earth I Come" (LSB 358). The program is available in both CD-ROM and downloadable formats to meet your church's technology needs. If you're looking instead for an Arch Book to share, check out Once Upon a Clear, Dark Night, Oh, Holy Night!, and The Shepherds Shook in Their Shoes, which all align in some way with the readings for Christmas Eve.
---
Looking for additional information on planning for Christmas Eve? Download our planning sheet to help you get started!
Quotation from Gathered Guests by Timothy H. Maschke, copyright © 2003, 2009 Timothy H. Maschke. Published by Concordia Publishing House. Used by permission.
Scripture quotations are from the ESV® Bible (The Holy Bible, English Standard Version®), copyright © 2001 by Crossway, a publishing ministry of Good News Publishers. Used by permission. All rights reserved.