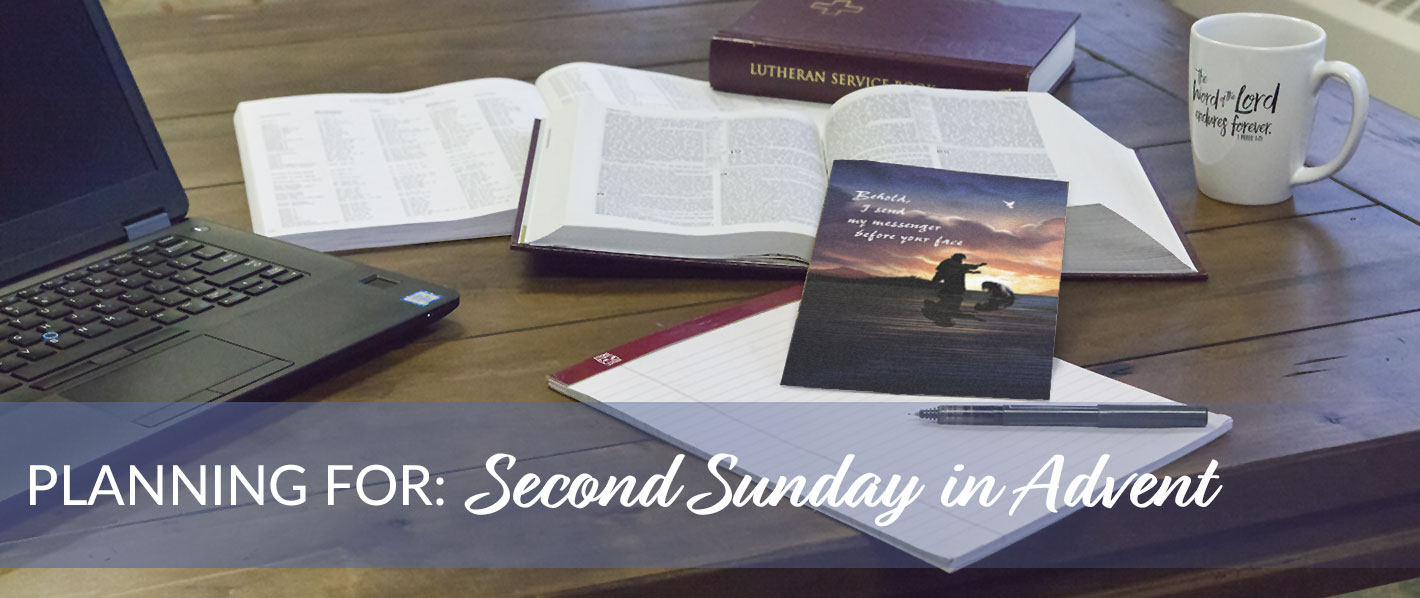 Learn more about the readings, music, and worship-service planning helps for the Second Sunday in Advent.
Season & Preparations
Last week, the season changed. Blue (or violet) now dominates the sanctuary. Your Christmas tree(s) may be up and decorated as well. The sanctuary has a more festive feel. Something or someone is coming and, of course, that someone is Jesus.
If your decorations include an Advent wreath, one thing you may be wondering is, "In what order do we light the candles?" If your Advent candles are in a line, this is, of course, not an issue. But if they are in a circle, Advent 2 requires a decision. Should you go clockwise or counterclockwise? Truly, there is no hard-and-fast rule about this. You can choose whatever seems best. Logistically, you might consider lighting the candle that is tallest (if you use wax candles). My only suggestion is to make sure for Advent 3, along with the rose candle, you light the same two blue or violet candles that were lit for Advent 2.
Readings & Theme
The Gospel for the week is from Mark 1 and tells of John the Baptist preparing the way for Jesus. The Old Testament Reading, from Isaiah 40, connects to the Gospel as prophecy fulfillment. The Epistle, from 2 Peter, is filled with apocalyptic imagery that encourages the reader to prepare for Christ's inevitable return. Psalm 85 is a plea for God to restore and revive His people.
Themes for the week include preparation, proclamation, and pardon. Each of these weaves its way through all four readings. With Christmas fast approaching, your people are likely overcome with the preparation aspect. Draw them toward proclamation and pardon as well. Advent is a fruitful time to hear and speak God's Word to others.
If you are working with Concordia Pulpit Resources, you will find that the prepare theme is evident in your materials. If you are working with Creative Worship, you have the prepare option as well as the theme "Withering Grass, Enduring Word," which is connected to Isaiah 40:8 and the Hymn of the Day.
Hymns & Music
The Hymn of the Day is "On Jordan's Bank the Baptist's Cry" (LSB 344), which connects to the Old Testament Reading and Gospel. Isaiah 40, especially verses 6–8, draws out themes present in stanza 3 ("Without Thy grace we waste away Like flow'rs that wither and decay").
Another hymn to consider is "Comfort, Comfort Ye My People" (LSB 347), which highlights the early verses of Isaiah 40. Also, if you didn't sing "Prepare the Royal Highway" (LSB 343) last week, you may want to use it this week because it also connects well with Isaiah 40.
Creative Worship uses stanza 1 of "Joy to the World" (LSB 387) as the Post-Communion Canticle. This hymn supports the prepare theme with the line "Let ev'ry heart prepare Him room."
Additional Resources for Worship & Study
If you're looking for additional Bible study guides, you can find a number of resources that delve deeper into this week's Old Testament Reading. Concordia Commentary: Isaiah 40–55 will provide insights for pastors preparing for this week, and People's Bible Commentary: Isaiah, Part 2 is an excellent resource for laypeople.
---
Looking for additional information on planning for the Second Sunday in Advent? Download our planning sheet to help you get started!
Quotations marked LSB are from Lutheran Service Book, copyright © 2006 Concordia Publishing House. All rights reserved.