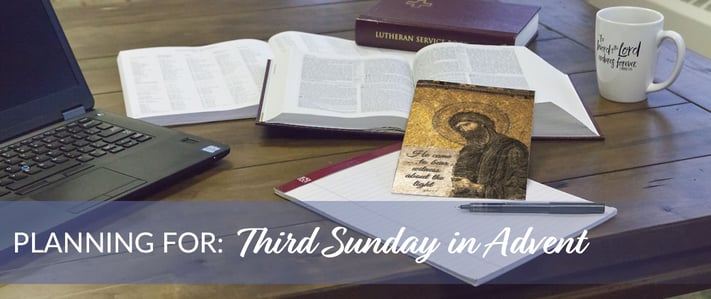 Learn more about the readings, music, and worship-service planning helps for the Third Sunday in Advent.
Season & Preparations
Many of my friends refer to Advent 3 as "Pink Candle Sunday!" (with the exclamation point and everything). The Third Sunday in Advent is indeed the joyous day when the pink or rose candle is lit. It is a Sunday on which this season of preparation and anticipation gains an element of rejoicing. In Gathered Guests, Timothy Maschke writes:
The Third Sunday of Advent is called Gaudete, a Latin word that means "rejoice." The words of the traditional (one-year series) Introit, which begins with that word, provide a glimmer of gladness in an otherwise more solemn season. As a result, a pink or rose candle is lit to emphasize this theme of joy. (292)
The three-year lectionary picks up on this turn toward joy in its selection of readings, which we turn to now.
Readings & Theme
Today's Gospel for Series B contains excerpts from John 1. This reading gives us more of John the Baptist's story. It has many similarities to the Gospel text from last week. Along with the "voice in the wilderness" material, this reading shares the Baptist's great confession, "I am not the Christ" (v. 20). It is a great confession we all can make. Jesus is the long-expected Christ. He is God Incarnate. We are not God Incarnate. We look to and for the One who is God Incarnate.
The theme of joy is more present in the reading from 1 Thessalonians 5, which begins, "Rejoice always" (v. 16). The Old Testament Reading from Isaiah 61 speaks of the year of the Lord's favor, of good news, of liberty, of beautiful headdresses, and the oil of gladness. Verse 10 begins, "I will greatly rejoice in the LORD." And Psalm 126 is filled with the joy of the Lord, including this line from verse 5: "Those who sow in tears shall reap with shouts of joy!"
Hymns & Music
The Hymn of the Day for Advent 3 is "Hark! A Thrilling Voice Is Sounding" (LSB 345). This hymn pairs well with the Gospel as we think about the "thrilling voice" of John the Baptist. His proclamation of Christ's nearness is thrilling in both a positive and negative sense. It is exciting and wonderful for those whom Christ will save. It is terrifying for those who do not wish to see God's coming, who have put themselves in God's place.
If you plan to focus more on the rejoicing themes, there are numerous hymn options. I suggest "Come, Thou Long-Expected Jesus" (LSB 338). The final line of stanza 1 sums up the day quite well: "Dear desire of ev'ry nation, Joy of ev'ry longing heart." If you'd like a more joyful tune for that hymn, I've heard it set quite pleasantly to HYFRYDOL (see LSB 700).
Also consider "O Bride of Christ, Rejoice" (LSB 335). Stanzas 3 and 5 include references to the Palm Sunday reading more appropriate for Advent 1, but stanzas 1, 2, and 4 fit well with the rejoicing themes of Advent 3. "Hark the Glad Sound" (LSB 349) is quite fitting with the Old Testament Reading. And, though it is the Hymn of the Day for Advent 4, "O Come, O Come, Emmanuel" (LSB 357) is quite appropriate for themes of joyful expectation, as the refrain proclaims: "Rejoice! Rejoice! Emmanuel Shall come to thee, O Israel!"
And don't skip over "Rejoice, Rejoice, Believers" (LSB 515) or "Rejoice, O Pilgrim Throng" (LSB 813).
For Distribution, consider "Thy Body, Given for Me, O Savior" (LSB 619) and "Soul, Adorn Yourself with Gladness" (LSB 636), which are both filled with joyful themes.
If you are not opposed to Christmas hymns making an appearance a bit early, a stanza of "Joy to the World" (LSB 387) can make a nice Post-Communion Canticle, as you'll see in Creative Worship.
Additional Resources for Worship & Study
God's Word for Today: John contains a brief study section that coincides with today's Gospel. For deeper study, Concordia Commentary: John 1:1–7:1 and People's Bible Commentary: John are also available.
---
Looking for additional information on planning for the Third Sunday in Advent? Download our planning sheet to help you get started!
Scripture quotations are from the ESV® Bible (The Holy Bible, English Standard Version®), copyright © 2001 by Crossway, a publishing ministry of Good News Publishers. Used by permission. All rights reserved.
Quotations marked LSB are from Lutheran Service Book, copyright © 2006 Concordia Publishing House. All rights reserved.
Quotation from Gathered Guests by Timothy H. Maschke, copyright © 2003, 2009 Timothy H. Maschke. Published by Concordia Publishing House. Used by permission.