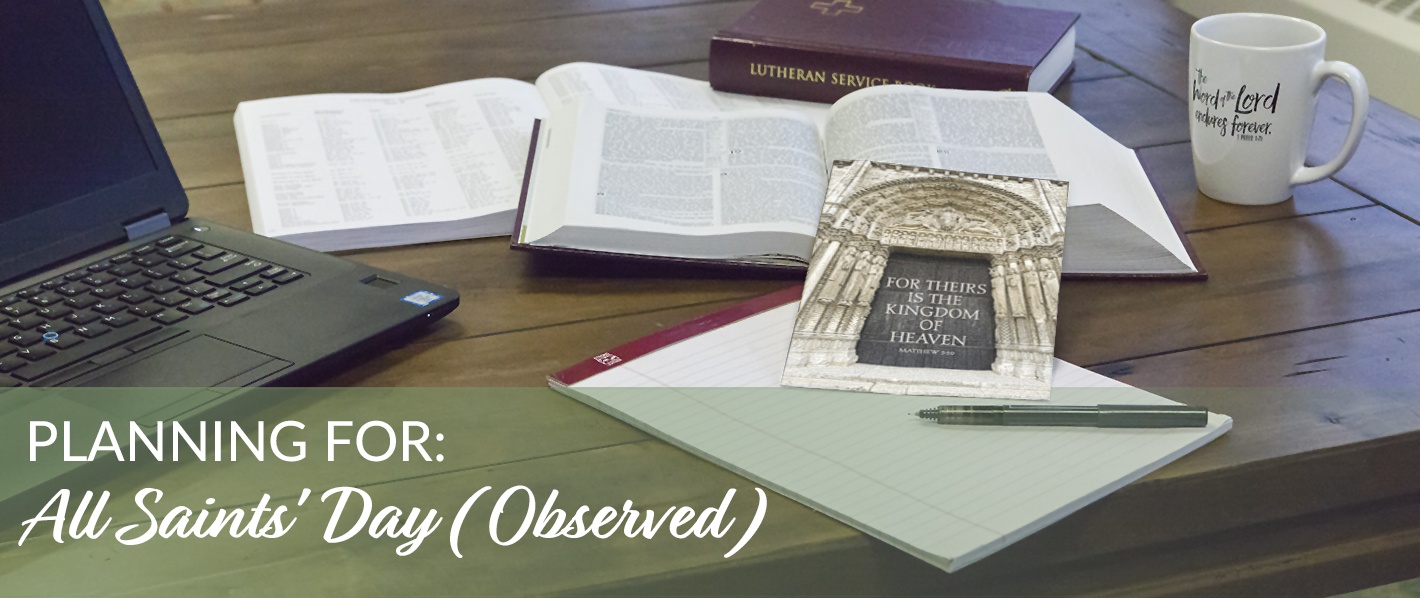 Learn more about the readings, music, and worship-service planning helps for All Saints' Day (observed November 4, 2018).
Season & Preparations
All Saints' Day can be among the most meaningful celebrations in the Church Year. It is a day to commemorate the faithful departed, the saints who have died in the Christian faith and now rest from their labors, awaiting the Last Day, the return of Christ, and the resurrection of the dead. One custom in many congregations is to read the names of those who have died in the faith in the past year, oftentimes with the ringing of a bell. It is a time to remember and mourn those who have died, but also a time for hope and thanksgiving that God has given us such a great cloud of witnesses who are now at rest in Christ.
The color for the day is white and the service is filled with overtones of Easter with plenty of Alleluias.
Readings & Theme
View the readings in Lutheran Service Builder >
The First Reading, or New Testament Reading, is from Revelation 7. The apostle John sees a vision of a multitude of people greater than anyone could number. This massive group of people comes from every tribe, nation, language, and people group. They are all clothed in white robes, waving palm branches, and shouting praise to God and to the Lamb. It is a beautiful scene that gives us a glimpse of our future with Jesus Christ in the midst of the throne as both Lamb and Shepherd, leading us to living water.
The Second Reading, or Epistle, is from 1 John 3. In three verses, John hits on major themes such as God's immense love, our status as children of God, Christ's return, and our resurrection to a perfectly purified life in Christ. Again, John gives a glimpse of what will be when Christ appears.
The Gospel is from Matthew 5. This section is the beginning of the Sermon on the Mount, and it is often referred to as "the Beatitudes." In this section, Jesus speaks about those who are blessed, even though it may appear they are anything but blessed. It is counterintuitive to think that those who are mourning, persecuted, and poor in spirit are blessed, but they are. Too often, I think we try to turn these words of Jesus into Law, calling on people to be meek, merciful, and pure in heart. But let us not overlook the Gospel present here. If you are poor in spirit, you are blessed because God's reign and rule, God's kingdom, has come for you. If you are mourning, as many people are on All Saints' Day, you are blessed because there is comfort in the hope of the resurrection.
Hymns & Music
The Hymn of the Day is "For All the Saints" (LSB 677). The layout of this hymn might be confusing for some and require a bit of instruction. In Lutheran Service Book, stanzas 1–3 are on the left page, stanzas 4–6 are on the right page, but stanzas 7–8 are back on the left again. Those who are unfamiliar with the hymn may begin to sing stanza 7 instead of stanza 4. One way to navigate this is to divide the hymn up. One possibility is singing the first three stanzas as the Entrance Hymn, stanzas 4–6 as the Hymn of Praise, and stanzas 7–8 as the Gospel acclamation. One might also consider using the choir for some of the stanzas as well.
Stanza 7 is among the best in the hymnal:
But, lo, there breaks a yet more glorious day:
The saints triumphant rise in bright array;
The King of Glory passes on His way.
Alleluia! Alleluia!
Indeed, the resurrection of the dead that we await is a more glorious day. We look forward to more than simply dying and going to heaven, being at rest with Christ. We look forward to that yet more glorious day when we shall arise from death and live with the King of Glory in His new creation forever.
Other hymns to consider include "Sing with All the Saints in Glory" (LSB 671), "Saints, See the Cloud of Witnesses" (LSB 667), and "Behold a Host, Arrayed in White" (LSB 676).
Additional Resources for Worship & Study
There are numerous musical resources available from CPH. If you are looking for some academic material for the readings this week, I'd suggest three excellent volumes from the Concordia Commentary series. Louis Brighton's Revelation is fantastic. Jeff Gibbs's first volume of Matthew will shed some light on the Sermon on the Mount. And Bruce Schuchard's volume on 1–3 John is an excellent, well-researched contribution.
---
Looking for additional information on planning for All Saints' Day? Download our planning sheet to help you get started!
Quotations marked LSB are from Lutheran Service Book, copyright © 2006 Concordia Publishing House. All rights reserved.