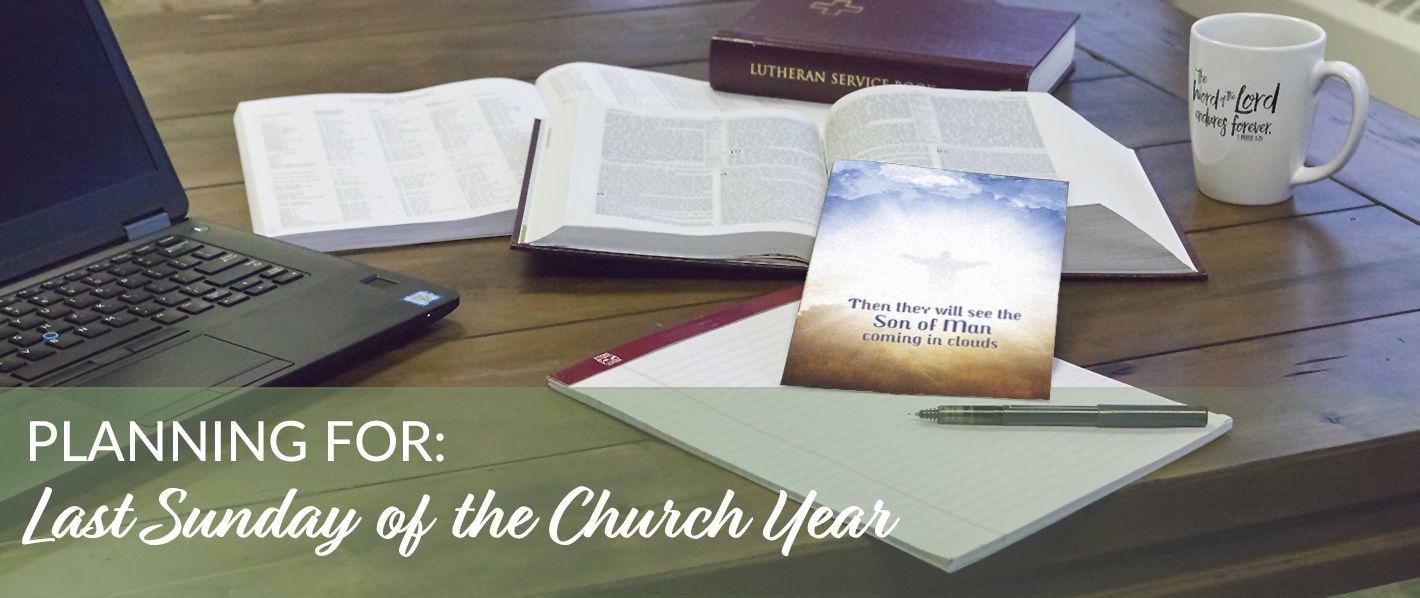 Learn more about the readings, music, and worship-service planning helps for the Last Sunday of the Church Year (November 25, 2018).
Season & Preparations
The end of the Church Year is here. Next week will be a turn to Advent, to a new Church Year, a new color, and a new lectionary year (moving from Year B to Year C). This week concludes Year B and you will have to make a few choices about the readings to determine the direction of the service.
Readings & Theme
View the readings in Lutheran Service Builder >
There are essentially two possible themes to choose from when selecting the readings. One focuses on God's judgment and return; the other focuses on Christ's kingship. If you go in the direction of Christ's return and judgment, you'll want to choose Isaiah 51:4–6, Jude 20–25, and Mark 13:24–37.
The Gospel for today shows Jesus in Jerusalem speaking of a time when heaven and earth will pass away. The Old Testament Reading, from Isaiah, speaks of a time when the heavens will vanish like smoke and the earth will wear out like a garment. Jude encourages his readers to keep themselves in the love and mercy of God as they wait for Christ's return. We know the return of Christ will be a day of immense change, and for many people that will be a painful change. But as we wait, we take Jude's words to heart, relying on God's mercy, knowing that He has saved us in and through Christ.
If you choose to focus on Christ's kingship, you'll want to choose Daniel 7:9–10, 13–14; Revelation 1:4b–8; and John 18:33–37.
Daniel sees a vision of one like a son of man who is given dominion and glory and a kingdom where all people serve Him. This one is Jesus. We see Jesus confess to this position of kingship in today's Gospel, from John 18. As Jesus is on trial before Pilate, Pilate asks if Jesus is a king. Jesus responds, "You say that I am a king. For this purpose I was born and for this purpose I have come into the world—to bear witness to the truth. Everyone who is of the truth listens to my voice" (v. 37). Jesus' purpose in His incarnation is to be a king who testifies to the truth. John speaks of this purpose in Revelation 1, calling Jesus "the faithful witness, the firstborn of the dead, and the ruler of kings on earth" (v. 5). Jesus is not simply a king who comes to rule in might; He is a king of compassion and truth who seeks the lost. He is a king who is risen from the dead. We will be raised in the same fashion when our King returns.
How you choose these readings might depend on which Gospel reading you choose for Advent 1. On Advent 1, you might choose the triumphal-entry passage from Luke 19, which is typically associated with Palm Sunday. Or you can choose the passage from Luke 21, which is quite similar to the Mark 13 reading on the Last Sunday of the Church Year.
Hymns & Music
The Hymn of the Day is "Lo! He Comes with Clouds Descending" (LSB 336). This Advent hymn manages to reflect both themes for the day as it focuses on Christ's return on the Last Day and His kingship and reign. Stanza one is excellent in every way:
Lo! He comes with clouds descending,
Once for ev'ry sinner slain;
Thousand thousand saints attending
Swell the triumph of His train:
Alleluia, alleluia, alleluia!
Christ the Lord returns to reign.
Other hymns to consider for this day include "Wake, Awake, for Night Is Flying" (LSB 516), "Sing, My Tongue, the Glorious Battle" (LSB 454), and "All Hail the Power of Jesus' Name" (LSB 549).
Additional Resources for Worship & Study
There is often plenty of confusion around the return of Christ and the Last Day. Louis Brighton's Concordia Commentary: Revelation is hands down the best resource I've ever encountered in helping to sort through many of the questions that arise about the end times.
---
Looking for additional information on planning for the Last Sunday of the Church Year? Download our planning sheet to help you get started!
Scripture quotations are from the ESV® Bible (The Holy Bible, English Standard Version®), copyright © 2001 by Crossway, a publishing ministry of Good News Publishers. Used by permission. All rights reserved.
Quotations marked LSB are from Lutheran Service Book, copyright © 2006 Concordia Publishing House. All rights reserved.