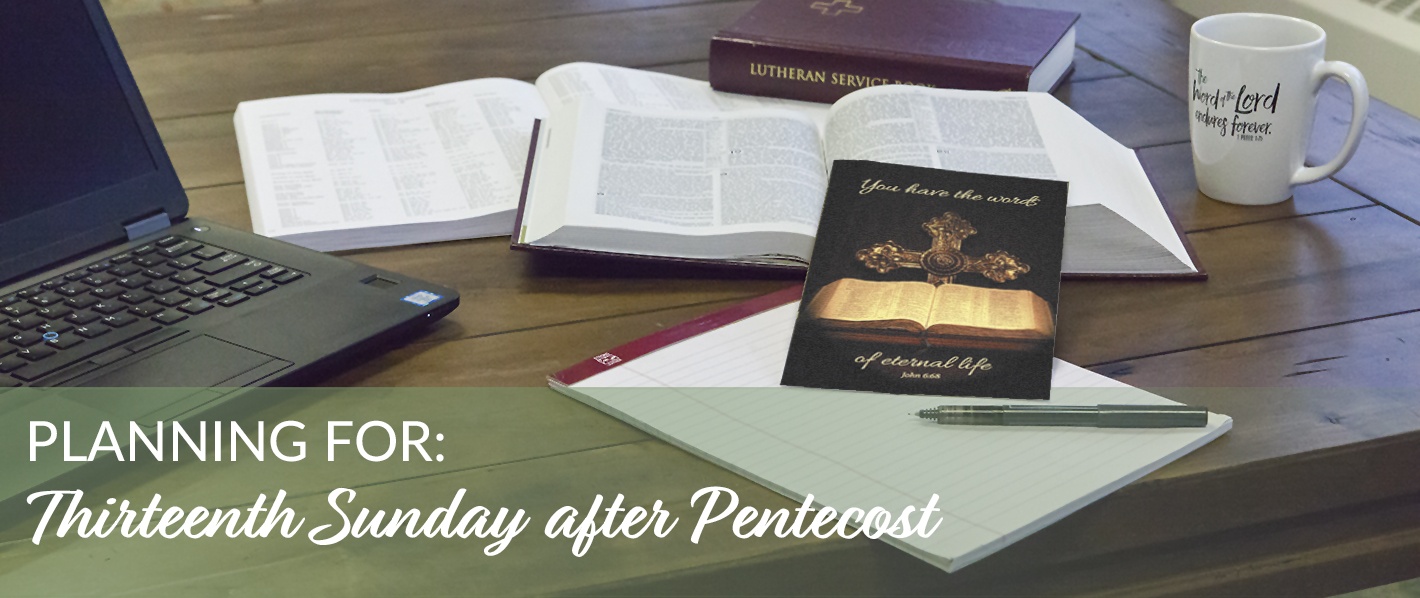 Learn more about the readings, music, and worship-service planning helps for the Thirteenth Sunday after Pentecost (August 19, 2018).
Season & Preparations
Two weeks ago, our continuous reading of the Gospel of Mark was interrupted by a reading from the Gospel of John. That reading was the first of three pericopes of what is known as the bread-of-life discourse. This week, the Thirteenth Sunday after Pentecost, we reach the end of our interlude in John 6. Next week we'll be back in the Gospel of Mark.
Preparations remain much the same. The color green continues to be used. If you have any banners that fit with the "I am the bread of life" theme, they would be a welcome addition to the sanctuary.
Readings & Theme
View the readings on Lutheran Calendar >
The Gospel for today, from John 6, finishes Jesus' bread-of-life discourse. This week's reading overlaps with last week's reading as Jesus says, "And the bread that I will give for the life of the world is my flesh" (v. 51). Flesh? This scandalous saying was amplified by another: "Unless you eat the flesh of the Son of Man and drink his blood, you have no life in you" (v. 53). Flesh and blood? Yikes.
These hard sayings lead to what one of my friends calls the saddest verse in the Bible, John 6:66: "After this many of his disciples turned back and no longer walked with Him."
But these hard sayings also lead us to the origin of a phrase we continue to use in the liturgy to this day. After the crowds disperse, choosing not to follow Jesus, He asks the twelve if they want to turn away as well. Peter answers, "Lord, to whom shall we go? You have the words of eternal life, and we have believed, and have come to know, that you are the Holy One of God" (vv. 68–69).
This Sunday, you have a choice between two Old Testament Readings. Which one you choose depends on which aspect of this week's Gospel you choose to focus on. If you choose to focus on the Lord's Supper connections in John 6 of flesh and blood, then I'd recommend Proverbs 9, which speaks of Wisdom building a house, setting a table, and inviting people to eat bread and drink wine.
If you choose to focus on the following Jesus aspects of John 6, then I'd go with the Joshua 24 reading, in which Joshua sets before the Israelites the choice between following Yahweh, the LORD, who delivered them out of Egypt, or the gods of the Amorites. If you are not using the LSB lectionary for series B, note the parameters of this text (Joshua 24:1–2a, 14–18). When it says 2a, it means to only read the very beginning of verse 2: "And Joshua said to all the people, 'Thus says the Lord, the God of Israel,'" then to skip to verse 14.
The Epistle continues our look at the Book of Ephesians. In this section from chapter 5, Paul encourages the Ephesians to walk in the light, not in darkness, and to walk as ones who are wise. One might find some connectivity to the Proverbs reading if this text were chosen. To walk as ones who are wise is to eat bread and drink wine at the Lord's table. One might also connect this to John 6. To walk as ones who are wise is to follow Jesus.
Hymns & Music
The Hymn of the Day is "O God, My Faithful God" (LSB 696). The opening line of stanza three is one of my favorite lines in Lutheran Service Book:
Keep me from saying words
That later need recalling.
It is simply so poignant and apt for our time. How often must we (or should we) apologize for speaking or typing words that we should not have said? How many tweets or comments should we delete that have been hurtful to our neighbors? It connects well to the Ephesians reading for today regarding being wise, and not unwise.
Other hymns to consider include "I Want to Walk as a Child of the Light" (LSB 411) and "Lord, Keep Us Steadfast in Your Word" (LSB 655).
Additional Resources for Worship & Study
In this interlude into John's Gospel, consider using William Weinrich's Concordia Commentary on John 1:1–7:1.
If you plan to work with the Book of Ephesians, I also recommend Thomas Winger's Concordia Commentary: Ephesians.
---
Looking for additional information on planning for the Thirteenth Sunday after Pentecost? Download our planning sheet to help you get started!
Scripture quotations are from the ESV® Bible (The Holy Bible, English Standard Version®), copyright © 2001 by Crossway, a publishing ministry of Good News Publishers. Used by permission. All rights reserved.
Quotations marked LSB are from Lutheran Service Book, copyright © 2006 Concordia Publishing House. All rights reserved.