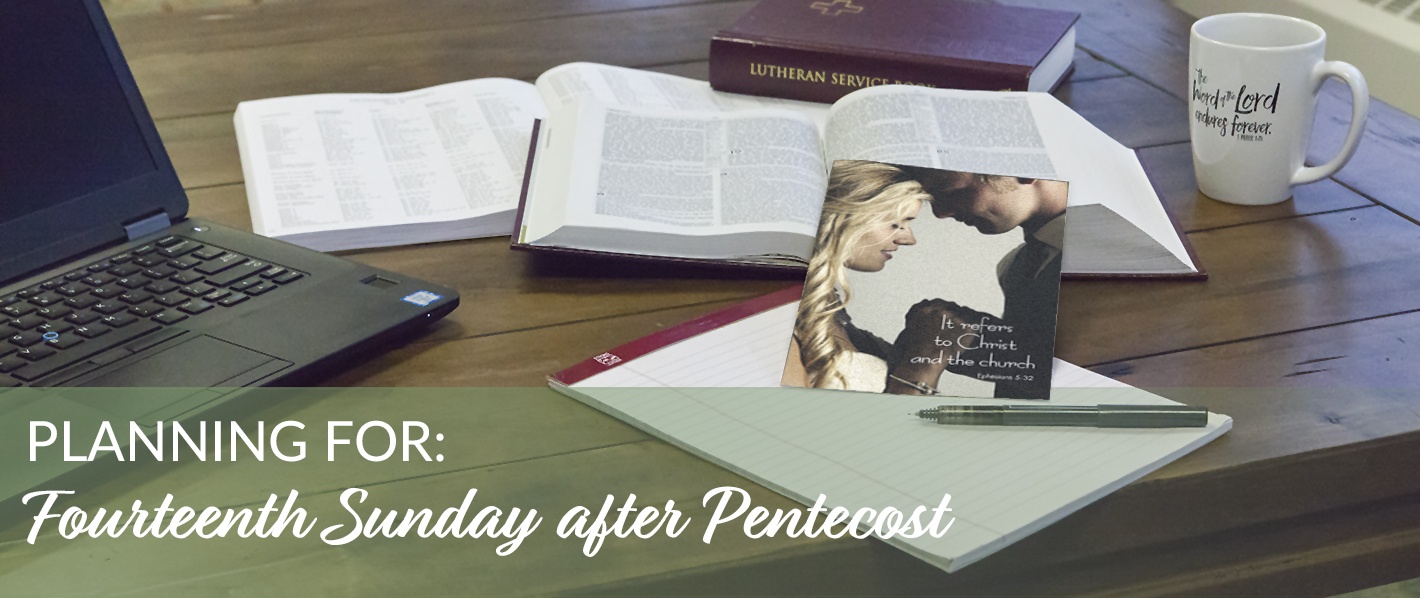 Learn more about the readings, music, and worship-service planning helps for the Fourteenth Sunday after Pentecost (August 26, 2018).
Season & Preparations
The Gospel readings during the season of Pentecost are often a mixture of the miracles and teachings of Jesus. For the last three weeks, we heard Jesus' teachings from John 6. This week, Jesus' teaching continues in the Gospel of Mark as Jesus' conflict with the Pharisees begins to develop and take shape.
Preparations remain much the same. The color green continues to be used until Reformation Sunday.
Readings & Theme
View the readings on Lutheran Calendar >
After a three-week break exploring John 6, we return to the Gospel of Mark this week, picking up in chapter 7. In Mark's narrative, Jesus has just fed the five thousand, walked on the sea, and healed the sick in Gennesaret. Now the Pharisees criticize Jesus and His disciples because Jesus' disciples are eating with defiled or unwashed hands. Now, this doesn't mean that the disciples had a hygiene problem, but rather that they were not following the ritual washing that the Pharisees were touting at the time. Jesus' response is one of disappointment. He quotes the Old Testament Reading for today, from Isaiah 29.
What Mark records Jesus saying is pretty harsh. These Pharisees are hypocrites, for they honor God with their lips, but in their hearts, they are far from God. As Isaiah writes, he says that because of this hypocrisy, God will do wonderful things with this people—wonder upon wonder. Indeed, Jesus does wonder upon wonder in Mark's Gospel. Many believe, but don't understand. Many do not believe at all. For as Isaiah says, they "turn things upside down! Shall the potter be regarded as the clay, that the thing made should say of its maker, 'He did not make me[?]'" (29:16). As the Pharisees refuse to recognize Jesus as Son of God, they refuse to acknowledge their Creator. They want to regard Jesus as a thing they can mold and shape and play with, like a piece of clay. Jesus refuses to let them turn things upside down and others astray.
The Epistle continues our look at the Book of Ephesians. In this section from chapter 5, Paul encourages the married couples among the Ephesians to live in their marriages like Christ and His church live together. Next week, the lectionary will conclude its walk through Ephesians.
Hymns & Music
The Hymn of the Day is "Lord, Help Us Ever to Retain" (LSB 865). This hymn is a call toward true and simple doctrine much like Martin Luther taught in his Small Catechism. Its connection to the readings exists in how the Pharisees take the Law of God, which is a good thing, and twist it for their own selfish purposes. May we never do this, but follow God's instruction well, loving God and loving our neighbors without an eye toward selfish gain.
Much of what Jesus says in this week's Gospel, and what Paul speaks of in the Epistle, has to do with following our vocations well, especially within the family: honoring our parents and loving our spouses. I would recommend the brief but useful "Vocation" section of hymns in Lutheran Service Book, which goes from hymns 853–857.
Additional Resources for Worship & Study
As you work through Mark's Gospel in this Pentecost season, I highly recommend James Voelz's Concordia Commentary: Mark 1:1–8:26.
If you plan to work with the Book of Ephesians, I also recommend Thomas Winger's Concordia Commentary: Ephesians.
---
Looking for additional information on planning for the Fourteenth Sunday after Pentecost? Download our planning sheet to help you get started!
Scripture quotations are from the ESV® Bible (The Holy Bible, English Standard Version®), copyright © 2001 by Crossway, a publishing ministry of Good News Publishers. Used by permission. All rights reserved.