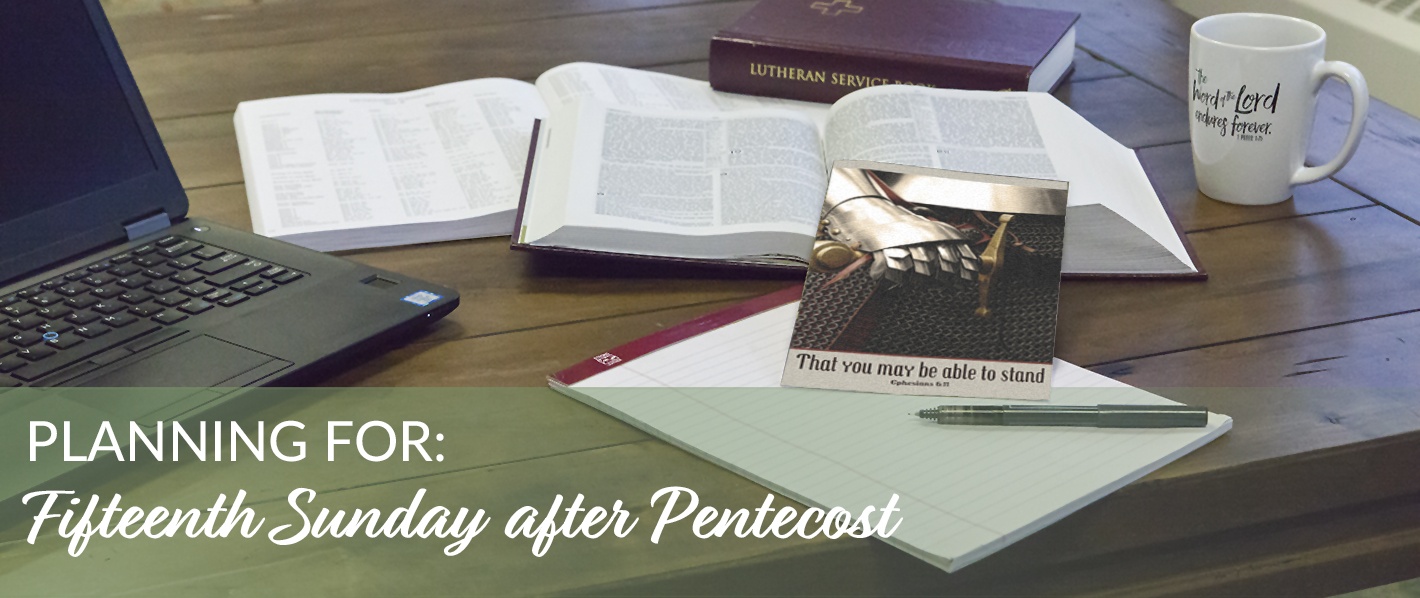 Learn more about the readings, music, and worship-service planning helps for the Fifteenth Sunday after Pentecost (September 2, 2018).
Season & Preparations
The season of Pentecost allows us to take a long look at one of the Gospel narratives and several Epistle texts. While the Old Testament Reading is typically chosen to fit with the Gospel of the day, the Epistle often does not fit together in a thematic way with the other readings. As our long walk through Mark's Gospel continues, our time in Paul's letter to the Ephesians comes to a close in this the fifteenth week after Pentecost.
Preparations remain much the same. The color green continues to be used until Reformation Sunday. Given the Ephesians text, any banners or other decoration for the sanctuary that includes themes related to the armor of God would be edifying and appropriate.
Readings & Theme
View the readings on Lutheran Calendar >
In this week's Gospel, from Mark 7, Jesus continues to show how different He is from the scribes and Pharisees. They had set up rules of their own, straying from God's ways. Jesus provides a corrective. Last week we saw how the scribes and Pharisees set up numerous rules about how food could be eaten, which utensils could be used, how those utensils had to be washed and prepared, and how people needed to wash before eating.
This week Jesus utters what Mark calls a parable, though it is not the type of parable we are used to hearing Jesus speak. This one is much shorter. He says, "There is nothing outside a person that by going into him can defile him, but the things that come out of a person are what defile him" (Mark 7:15). While Jesus' parable confuses the crowds and the disciples, His meaning seems straightforward to us. How you wash a plate or your hands isn't what makes you a righteous or sinful person. What foods you eat isn't what makes you a righteous or sinful person. But rather, what comes out of your mouth is what defiles you. If this week's Epistle was chosen for thematic purposes, Romans 10:9 might have been chosen: "If you confess with your mouth that Jesus is Lord and believe in your heart that God raised him from the dead, you will be saved."
The Old Testament Reading, from Deuteronomy 4, uses select verses to get at the issue of adding to and taking away from God's Word. This is seen in verse 2: "You shall not add to the word that I command you, nor take from it." It is a bit disappointing that this pericope ends with verse 9, which speaks of remembering what God has done for Israel, but it doesn't continue on to verses 10–14, which record what God did. God spoke to Israel. God gave them instructions for how to live in the new land they were about to possess. God does not leave them without His Word. Likewise, God does not leave us without His Word, but He sent His Son, the Word made flesh, for our salvation.
The Epistle concludes our look at the Book of Ephesians. This section from chapter 6 is perhaps the most known part of Ephesians, in which Paul speaks of putting on the armor of God. While there is a lot to unpack from a cultural standpoint related to military armor in Paul's day, don't forget the armor Paul mentions in verse 18, as he says we are to keep "praying at all times in the Spirit." Prayer is an oft-forgotten yet powerful weapon and piece of armor in our daily struggle against Satan.
Hymns & Music
The Hymn of the Day is "By Grace I'm Saved" (LSB 566). It may be hard to see a connection from the readings to this hymn, but look in stanza 4:
What saints have penned by inspiration,
What in His Word our God commands,
Our faith in what our God has done
Depends on grace—grace through His Son.
Everything written in Deuteronomy, in Mark, in Ephesians, in every other book of the Bible depends on the grace God has shown us in Jesus' incarnation, death, resurrection, and return.
Also consider "Rise, Shine, You People" (LSB 825) and "A Mighty Fortress Is Our God" (LSB 656/657). These both connect with the Epistle's theme of cosmic struggle between God and Satan.
Additional Resources for Worship & Study
As you work through Mark's Gospel in this Pentecost season, I highly recommend James Voelz's Concordia Commentary: Mark 1:1–8:26.
If you plan to work with the Book of Ephesians, I also recommend Thomas Winger's Concordia Commentary: Ephesians.
---
Looking for additional information on planning for the Fifteenth Sunday after Pentecost? Download our planning sheet to help you get started!
Scripture quotations are from the ESV® Bible (The Holy Bible, English Standard Version®), copyright © 2001 by Crossway, a publishing ministry of Good News Publishers. Used by permission. All rights reserved.
Quotations marked LSB are from Lutheran Service Book, copyright © 2006 Concordia Publishing House. All rights reserved.