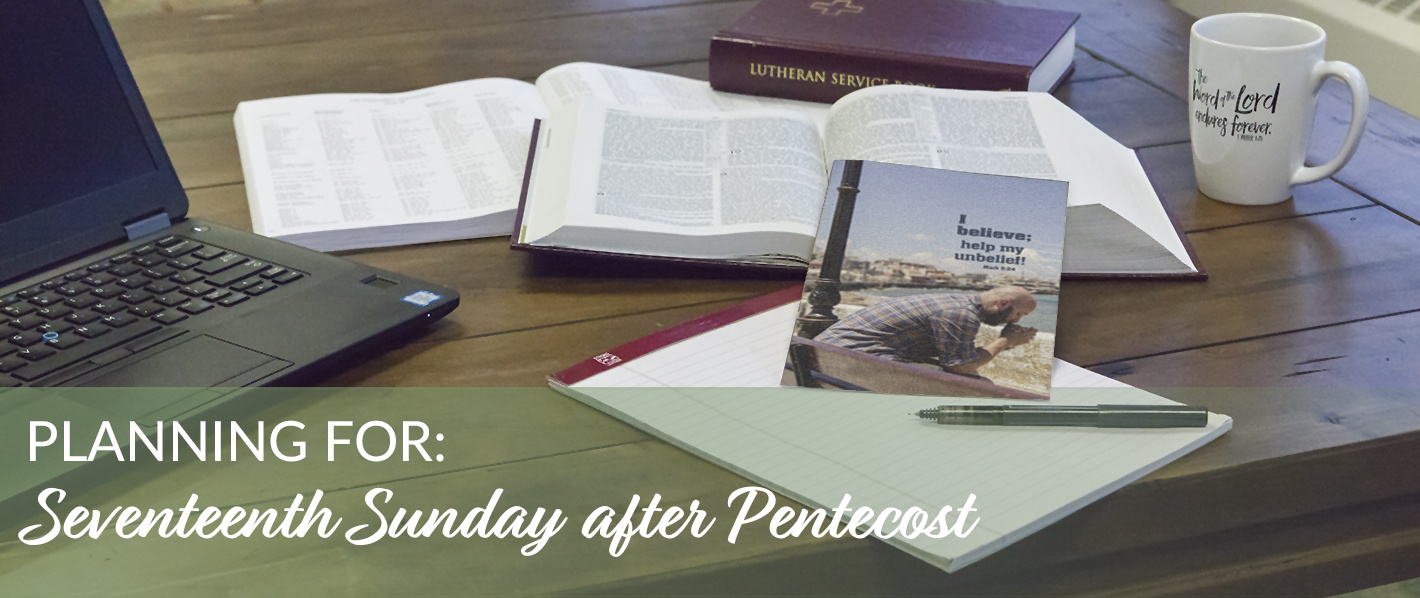 Learn more about the readings, music, and worship-service planning helps for the Seventeenth Sunday after Pentecost (September 16, 2018).
Season & Preparations
The season of Pentecost allows us to take a long look at one of the Gospel narratives. As our long walk through Mark's Gospel continues, Jesus' conflict with the powers of Satan continues to escalate, and Jesus continues to prevail.
Preparations remain much the same. The color green continues to be used until Reformation Sunday.
Readings & Theme
View the readings in Lutheran Service Builder >
The Old Testament Reading for the Seventeenth Sunday after Pentecost is from Isaiah 50. In this section, Isaiah prophesies with words of hope. Isaiah trusts that the Lord is near and that He will help. God sustains the weary with a word. God opens and awakens ears.
We see Isaiah's words come to fruition and fulfillment in Jesus. We see part of that fulfillment in the Gospel for today, from Mark 9. In this section, Jesus is approached by a father whose son has a mute and deaf spirit. This is not simply a person who is mute and deaf; this is a demonic spirit that seeks to harm the possessed person. The situation is dire and the father is at the end of his rope. He asks Jesus for help, but feels hopeless. He says to Jesus, "If you can do anything, have compassion on us and help us" (v. 22). Jesus replies "'If you can'! All things are possible for one who believes" (v. 23). The father responds immediately with some of the most beautiful words in the scriptures: "I believe; help my unbelief!" (v. 24). Jesus then heals the boy and casts out the evil spirit. Jesus opens and awakes this boys' ears and tongue. He is near and helps. Jesus fulfills the words of Isaiah 50. He continues to help and be near us with His Word. He helps our unbelief continually.
The Epistle continues a brief look at the Book of James. In this section from chapter 3, James warns about taming our tongues. He acknowledges the challenge of this task. Our tongues are prone to cursing, gossip, slander, and all sorts of evil. It is a small body part, but it drives a human being in one direction or another, just like a rudder on a ship. If you can't control a ship's rudder, you can't control its direction. If you can't control your tongue, you are in similar trouble.
Hymns & Music
The Hymn of the Day is "Praise the One Who Breaks the Darkness" (LSB 849). As Christ walked the earth, He broke the darkness wherever He went. We see this in today's Gospel as Christ casts out a demonic force and provides that boy with the ability to speak and to hear. The first stanza captures much of what we've heard from the Gospel of Mark over the past several weeks.
Other hymns that would be fitting include "Rise, Shine, You People" (LSB 825), "Your Hand, O Lord, in Days of Old" (LSB 846), and "Christ, the Lord of Hosts, Unshaken" (LSB 521).
Additional Resources for Worship & Study
James Voelz's first volume of his Mark commentary only goes through Mark 8:26, so our readings are now beyond that point and his second volume has not yet been published.
While we do not go through the Old Testament Readings in a sequential order, Isaiah is among the most common books the Old Testament Readings come from. Reed Lessing's Concordia Commentaries on the second part of Isaiah are useful in any pastor's library. They are Isaiah 40–55 (useful for this week) and Isaiah 56–66.
---
Looking for additional information on planning for the Seventeenth Sunday after Pentecost? Download our planning sheet to help you get started!
Scripture quotations are from the ESV® Bible (The Holy Bible, English Standard Version®), copyright © 2001 by Crossway, a publishing ministry of Good News Publishers. Used by permission. All rights reserved.