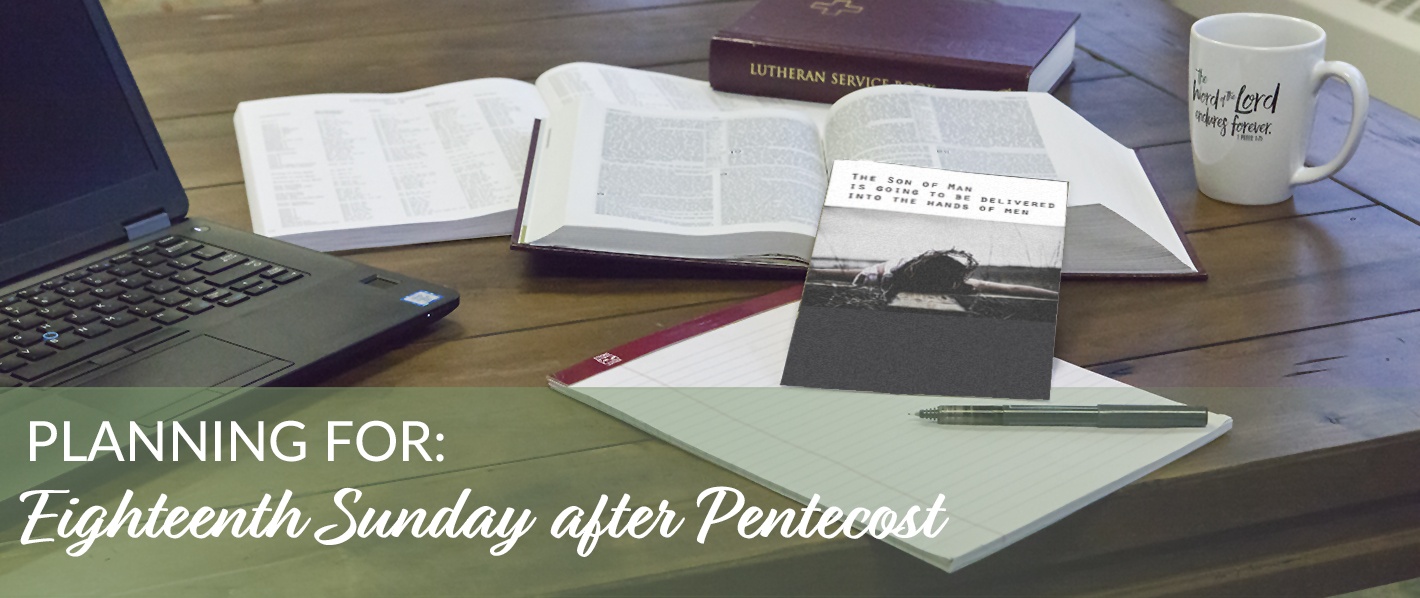 Learn more about the readings, music, and worship-service planning helps for the Eighteenth Sunday after Pentecost (September 23, 2018).
Season & Preparations
The season of Pentecost in Series B allows us to take a long look at the Gospel of Mark. While last week we saw hints of Christmas, this week we see hints of Good Friday and Easter Sunday.
Preparations remain much the same. The color green continues to be used until Reformation Sunday.
Readings & Theme
View the readings in Lutheran Service Builder >
The Gospel for the Eighteenth Sunday after Pentecost comes from Mark 9 and is in two parts. In the first part, Jesus tells the disciples about His imminent death and resurrection, but the disciples do not understand. This turn in Mark's Gospel points us to Mark's theme: Jesus as the Son of God on the cross.
In the second part of this week's Gospel, the disciples have had an argument about who is the greatest. Jesus calls them out on it and informs them of how things work in His kingdom: the first shall be last and the last shall be first. Jesus brings a child before them and tells them that whoever receives such a child receives Him. We have a hard time understanding how difficult that might have been for the disciples to hear. Children did not have the place in society then as they do today. Children were dependent in every way, incapable of contributing to the family. They were in many ways a burden. Early Christians took these words to heart, adopting unwanted infants and children into their own homes, receiving them as they would receive Christ.
The Old Testament Reading is from Jeremiah 11. This section connects to the first part of today's Gospel. Jeremiah describes himself as one who is like a lamb led to the slaughter, whose enemies seek to kill him. As Jesus predicts His death and resurrection, these words from Jeremiah 11 apply to Him as well.
The Epistle continues a brief look at the Book of James. In this section from chapters 3 and 4, James warns against quarrels that come from unbridled passions and desires within people. James prescribes humility in place of pride, submitting to God rather than to one's worldly passions.
Hymns & Music
The Hymn of the Day is "Lord of Glory, You Have Bought Us" (LSB 851). The humility called for by Jesus and James is rendered beautifully in this hymn, especially these lines in stanza two:
Grant us hearts, dear Lord to give You
Gladly, freely of Your own.
With the sunshine of Your goodness
Melt our thankless hearts of stone.
Other hymns to consider for this day include "Children of the Heavenly Father" (LSB 725), "Father Welcomes" (LSB 605), and, to get at the turn toward the cross, Paul Gerhardt's classic "A Lamb Goes Uncomplaining Forth" (LSB 438).
Here is the first stanza of "A Lamb Goes Uncomplaining Forth":
A Lamb goes uncomplaining forth,
The guilt of sinners bearing
And, laden with the sins of earth,
None else the burden sharing;
Goes patient on, grows weak and faint,
To slaughter led without complaint,
That spotless life to offer,
He bears the stripes, the wounds, the lies,
The mockery, and yet replies,
"All this I gladly suffer."
Additional Resources for Worship & Study
James Voelz's first volume of his Mark commentary only goes through Mark 8:26, so our readings are now beyond that point and his second volume has not yet been published. However, the Reformation Heritage Bible Series offers commentary and devotional materials and includes volumes on Mark and the General Epistles.
---
Looking for additional information on planning for the Eighteenth Sunday after Pentecost? Download our planning sheet to help you get started!
Scripture quotations are from the ESV® Bible (The Holy Bible, English Standard Version®), copyright © 2001 by Crossway, a publishing ministry of Good News Publishers. Used by permission. All rights reserved.
Quotations marked LSB are from Lutheran Service Book, copyright © 2006 Concordia Publishing House. All rights reserved. The text for LSB 438 is © 1941 Concordia Publishing House.