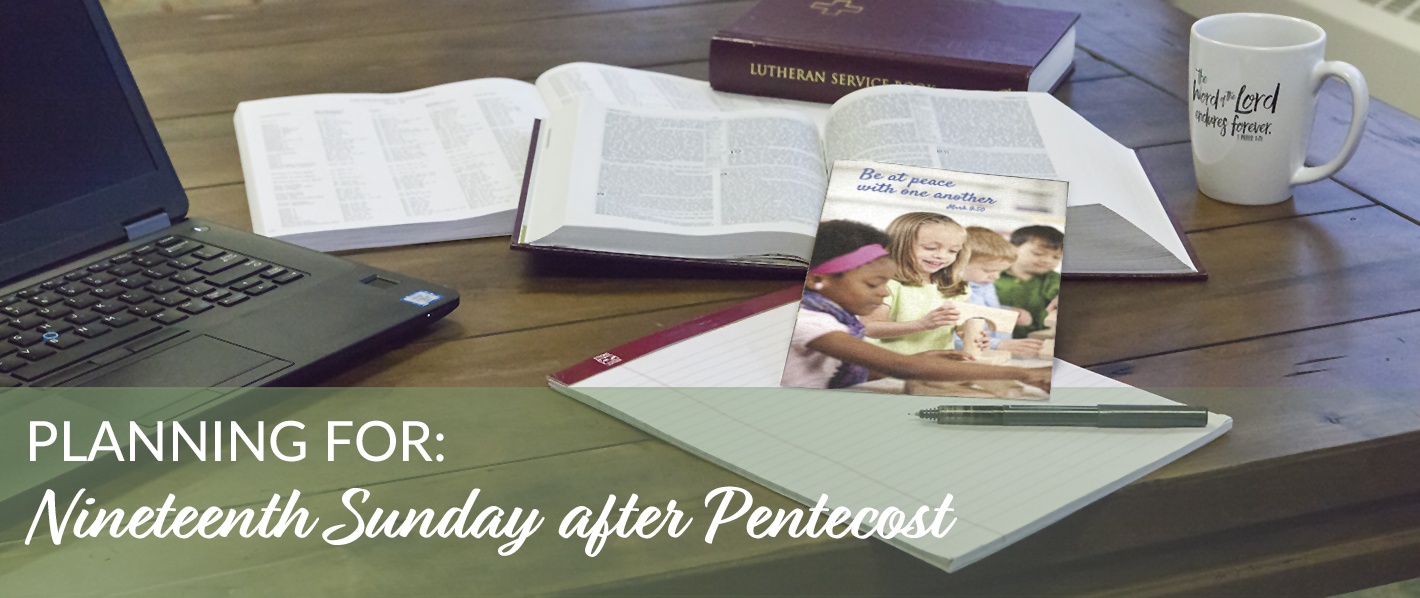 Learn more about the readings, music, and worship-service planning helps for the Nineteenth Sunday after Pentecost (September 30, 2018).
Season & Preparations
The long season of Pentecost continues with the color green as usual. This year, the Nineteenth Sunday after Pentecost lands on September 30. If you wish to celebrate the feast of St. Michael and All Angels (which occurs on September 29), then white would be the color to use. The readings for that feast day would of course be different. Check Lutheran Service Book, page xxiii.
Readings & Theme
View the readings in Lutheran Service Builder >
The Gospel for the Nineteenth Sunday after Pentecost comes from Mark 9 and is in two parts. In the first part, the disciples encounter a man who is casting out demons in the name of Jesus. They try to stop him, and the reason they give is subtle and interesting: "because he was not following us" (v. 38). Notice, there is nothing to say this man wasn't following Jesus, but he wasn't "following us." He was not a part of the normal group of disciples. Jesus' answer is to not stop this man, because anyone not against them is for them.
In the second part of the Gospel, Jesus speaks about the dangers of sin and causing others to sin. Jesus even goes so far as to say that if various body parts cause you to sin, cut them off, for it is better to enter God's reign and rule with one hand or one eye or one foot than to be thrown into hell with both hands, eyes, and feet. I often wonder how my body parts could cause me to sin. My hands and feet have no mind of their own. Jesus' hyperbolic statement hits home though as we think about the many idols in our lives that do cause us to sin. Perhaps one might apply Jesus' words to unethical employment, to an inappropriate relationship, or even to a piece of technology. If those things cause you to sin, cut them off. Throw them away. It is better to enter the reign and rule of God without them.
The Old Testament Reading is from Numbers 11 with select verses. In this section, God tells Moses to appoint seventy elders to oversee the people of Israel. These men are all gathered together, but then two men begin prophesying who were not among the seventy elders. Joshua, Moses' assistant, tries to stop them (much like the disciples in the Gospel), but Moses tells him not to. Moses knows God gives His gifts as He sees fit. One can see the connection between the first part of the Gospel and this Old Testament Reading.
The Epistle concludes our brief look at the Book of James. In this section from chapter five, James encourages faithful prayers, and confidence that God will hear and answer the prayers of His people.
Hymns & Music
The Hymn of the Day is "Triune God, Be Thou Our Stay" (LSB 505). This Martin Luther hymn can be sung in one of two ways. Either sing one stanza with the opening line "Triune God, be Thou our stay" or with three stanzas, naming each person of the Trinity.
Other hymns to consider for this day include "Lord, Whose Love through Humble Service" (LSB 848), "God of Grace and God of Glory" (LSB 850), and "O Worship the King" (LSB 804).
Additional Resources for Worship & Study
James Voelz's first volume of his Mark commentary only goes through Mark 8:26, so our readings are now beyond that point and his second volume has not yet been published. However, the Reformation Heritage Bible Series offers commentary and devotional materials and includes volumes on Mark and the General Epistles.
---
Looking for additional information on planning for the Nineteenth Sunday after Pentecost? Download our planning sheet to help you get started!
Scripture quotations are from the ESV® Bible (The Holy Bible, English Standard Version®), copyright © 2001 by Crossway, a publishing ministry of Good News Publishers. Used by permission. All rights reserved.
Quotations marked LSB are from Lutheran Service Book, copyright © 2006 Concordia Publishing House. All rights reserved.