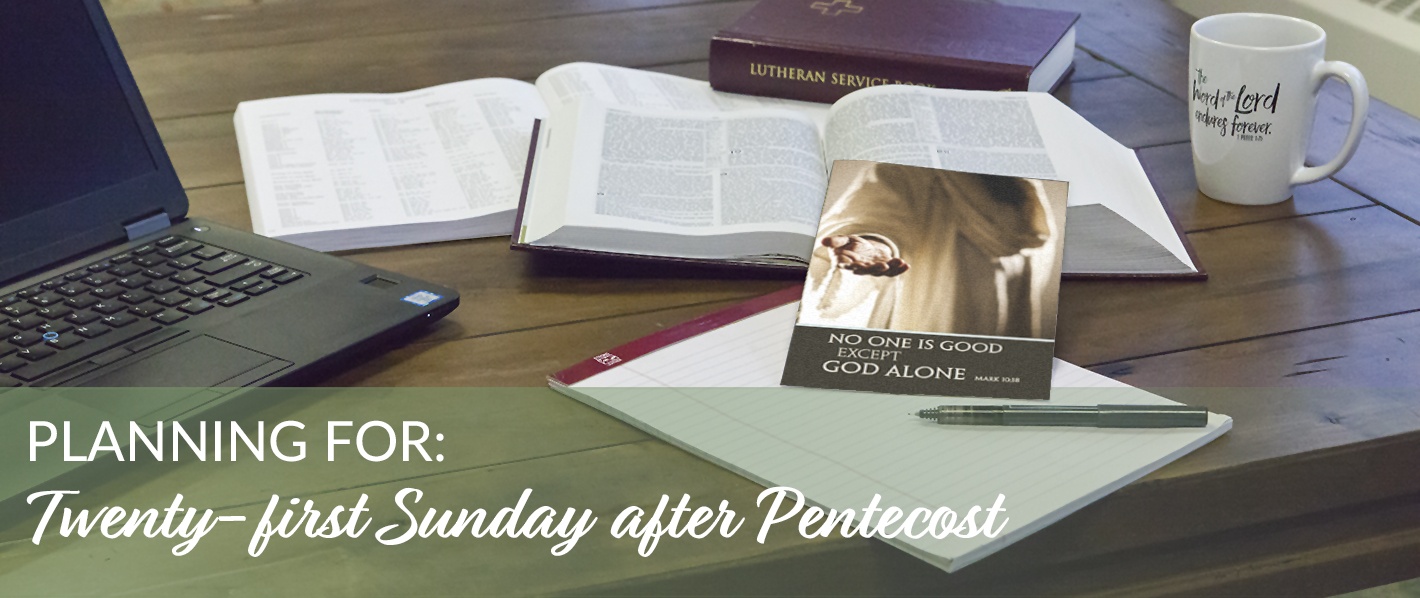 Learn more about the readings, music, and worship-service planning helps for the Twenty-first Sunday after Pentecost (October 14, 2018).
Season & Preparations
The long season of Pentecost continues with the color green as usual. If you have a banner with the phrase "Follow Me" or something similar, it may be a useful connection to the Gospel for today.
Readings & Theme
View the readings in Lutheran Service Builder >
The Gospel for the Twenty-first Sunday after Pentecost tells the story of a rich young man who desires to inherit eternal life. He finds Jesus and asks Him what he must do to inherit eternal life. Jesus points the man to the Ten Commandments, but the man assures Jesus that he has kept all these. So Jesus answers again with a challenging word, telling the man to sell all he has, give it to the poor, then come follow Him. The man goes away sad because of his great wealth.
The Old Testament Reading, from Amos 5, also deals with the rich and warns them about trampling on the poor. Amos urges us to seek good and not evil, to establish justice, and seek the Lord. In both the Old Testament and the Gospel for today, we see how wealth has a way of hindering us as we seek to follow Jesus. It's easy to find all sorts of excuses as to why we should keep our money and possessions and let them accumulate, but we must heed Amos's warning. God does not look kindly on those who trample down the poor in order to gain more and more wealth.
The Epistle continues our exploration of the Book of Hebrews. In this section from chapter three, we are reminded that sin turns us away from following Jesus. It hardens our hearts and can lead to unbelief. Unbelief prevented the Israelites who were led by Moses from entering the Promised Land, from entering the rest that was promised them. Likewise, unbelief prevents us from finding rest in Jesus. The writer of Hebrews encourages us to exhort one another every day, to be in the community of believers and support one another through struggles.
Hymns & Music
The Hymn of the Day is "Thee Will I Love, My Strength, My Tower" (LSB 694). The first four lines of stanza four capture the theme for the day quite well.
O keep me watchful, then, and humble;
Permit me nevermore to stray.
Uphold me when my feet would stumble,
And keep me on the narrow way.
One hymn that I think gets at all three readings quite well is "Take My Life and Let It Be" (LSB 783/784). While the hymn deals with the money aspect of discipleship and stewardship in stanza four, it deals with many other aspects of following Jesus as well. Our service to God and neighbor is done with more than money, but also with our service and work, our praise and preaching, our minds and hearts. Indeed, our entire life and being is a gift from God and we use all He has given us as we follow Jesus and invite others to follow Jesus.
Other hymns to consider for this day include "God of Grace and God of Glory" (LSB 850), "Seek Ye First" (LSB 712), and "Salvation unto Us Has Come" (LSB 555).
Additional Resources for Worship & Study
John Kleinig's Concordia Commentary on the Book of Hebrews will undoubtedly prove useful over the next several weeks as we work through sections of this rather challenging Epistle.
---
Looking for additional information on planning for the Twenty-first Sunday after Pentecost? Download our planning sheet to help you get started!
Quotations marked LSB are from Lutheran Service Book, copyright © 2006 Concordia Publishing House. All rights reserved.