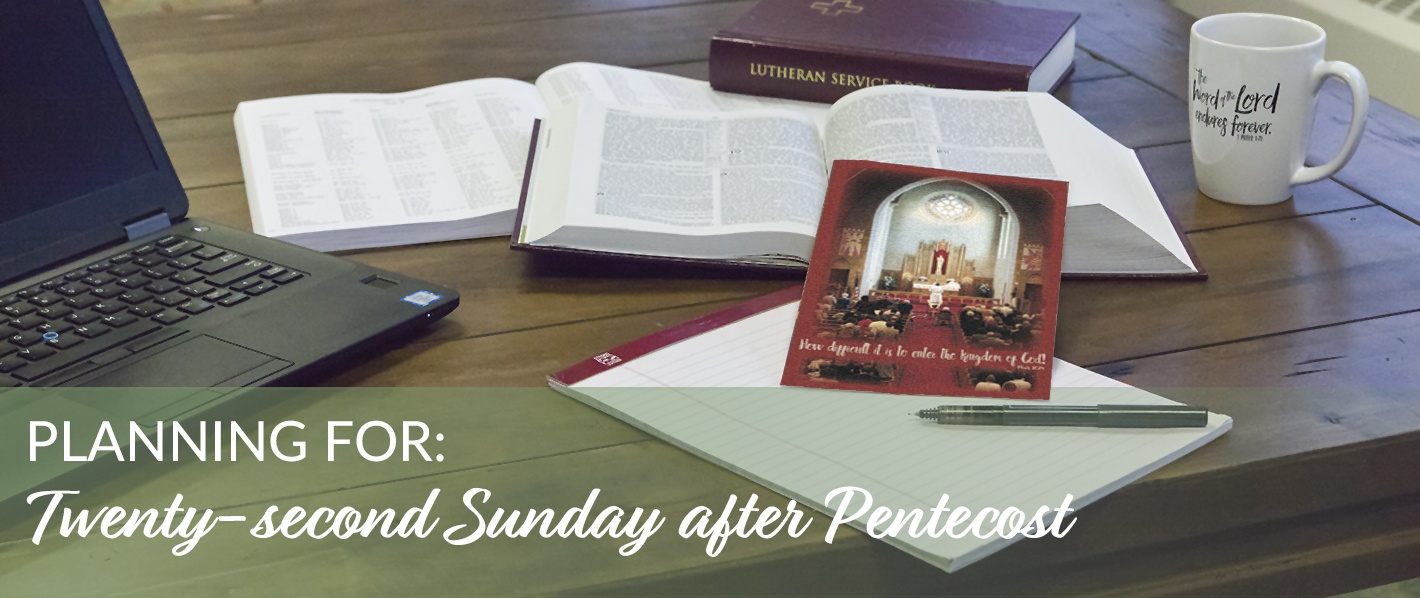 Learn more about the readings, music, and worship-service planning helps for the Twenty-second Sunday after Pentecost (October 21, 2018).
Season & Preparations
The season of Pentecost continues with the color green as usual, but be prepared for a change. Reformation Sunday follows the Twenty-second Sunday after Pentecost in 2018, so the following week will be red, which has not been used since the Day of Pentecost.
Readings & Theme
View the readings in Lutheran Service Builder >
The Gospel from last week told the story of a rich young man. This man finds Jesus and asks about eternal life. Jesus tells him to sell all he has, give it to the poor, then come follow Him. The rich young man goes away sorrowful. And our Gospel for this week picks up right after the rich young man walks away. Jesus tells the disciples twice in a row how difficult it is for a rich person to enter the kingdom of God. Jesus even says it is easier for a camel to go through the eye of a needle than for a rich person to enter the kingdom of God. I've heard many people try to pass this off as hyperbole, or as an idiom referring to a place in Israel conveniently called the "eye of the needle" where camels could get through but it was challenging. I see no reason to go down these roads. It is impossible for any of us to enter the kingdom of God on our own, whether rich or poor or anywhere in between. But with God, all things are possible. With God, all people can enter the kingdom of God regardless of wealth, race, language, or any other marker of division. Through Christ, we all have access to the kingdom of God.
The Old Testament Reading, from Ecclesiastes 5, draws on the themes of wealth in this week's Gospel. The preacher of Ecclesiastes reveals a truth that is perhaps even more visible and obvious in today's world: when our wealth increases, our desire for more wealth increases. We will never be satisfied if wealth is our measuring stick. We will always desire more. The advice the preacher offers is to eat and drink what God has given you (which might not be that much at all) and enjoy your work because it is a gift from God.
The Epistle continues our exploration of the Book of Hebrews. In this section of chapter 4, you have the option of extending the reading to include verses 14–16. The first section in verses 1–13 deals with the Sabbath rest that still exists for God's people. That rest exists in Jesus—the Word of God, the Son of God, and our great high priest. He is able to sympathize with all the challenges of being human because He has been tempted just as we have been, but He has passed through all temptations without sin.
Hymns & Music
The Hymn of the Day is "Hope of the World" (LSB 690). The final two lines of stanza one articulate our struggle as human beings quite succinctly. Our passions for wealth, fame, glory, and power are all false hopes and false aims. We need to be saved from ourselves.
Other hymns to consider for this day include a few from the vocation section of Lutheran Service Book: "How Clear Is Our Vocation, Lord" (LSB 853), "Forth in Thy Name, O Lord, I Go" (LSB 854), and "O Christ, Who Called the Twelve" (LSB 856).
Additional Resources for Worship & Study
John Kleinig's Concordia Commentary on the Book of Hebrews will undoubtedly prove useful over the next several weeks as we work through sections of this rather challenging Epistle.
---
Looking for additional information on planning for the Twenty-second Sunday after Pentecost? Download our planning sheet to help you get started!