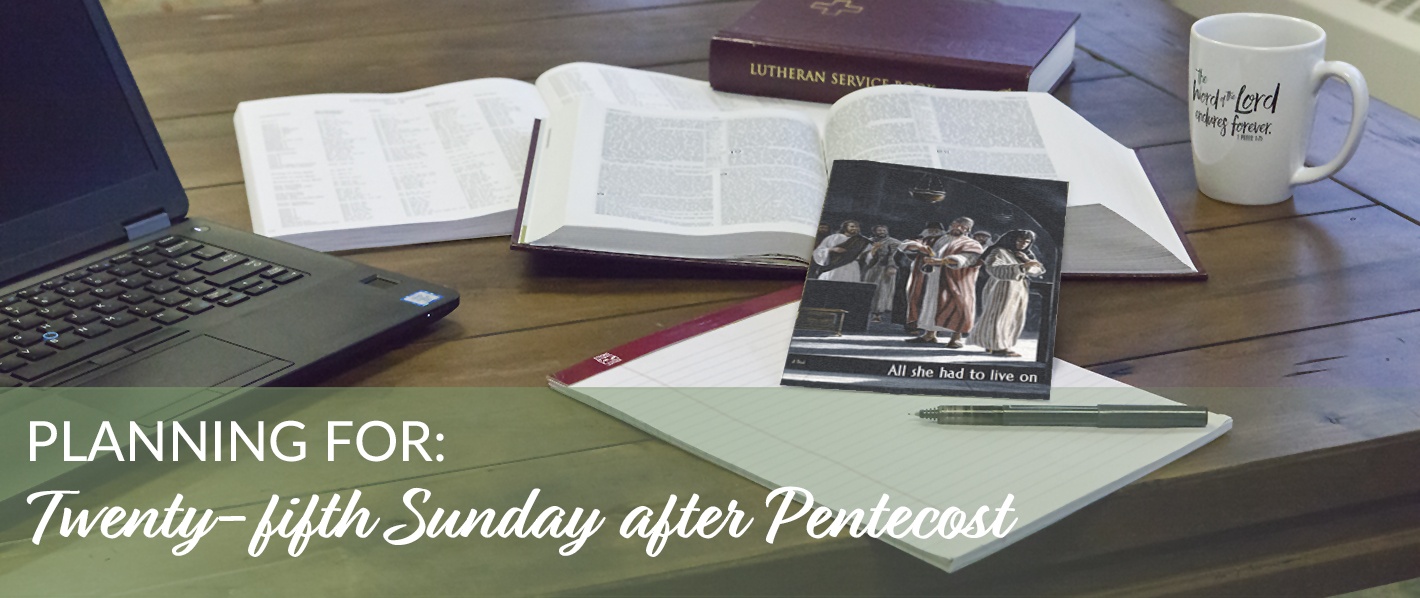 Learn more about the readings, music, and worship-service planning helps for the Twenty-fifth Sunday after Pentecost (November 11, 2018).
Season & Preparations
After two Sundays observing the festivals of Reformation Day and All Saints' Day, we return once again to the season of Pentecost and the color green. But keep the white paraments close at hand because that is the color for Thanksgiving, which is only a week and a half away.
The time between All Saints' Day and Advent is an interesting time in the Church Year. The readings take on a flavor of the end times and judgment, but God's provision, control, and love are still in focus as we await the return of Jesus.
Readings & Theme
View the readings in Lutheran Service Builder >
The Old Testament Reading and the Gospel for the Twenty-fifth Sunday after Pentecost each tells the story of two widows. The first encounters the prophet Elijah in 1 Kings 17. The drought and famine have become dire for this woman. She is out gathering sticks to prepare a final meal for her and her son when Elijah asks her for a drink and a bit of bread. Elijah tells this widow of God's coming provision for her, that her flour and oil will not run out until rain comes upon the land.
In the Gospel, from Mark 12, Jesus encounters a widow who is giving an offering to the temple. This reading is often taken as an opportunity for a stewardship sermon, but don't miss the conflict dynamics in the reading. Jesus has just rebuked the scribes for devouring widows' houses. Now a widow has put the last of her money into the temple offering box. They have devoured her. The point of the text is not to persuade people to give more money to church, but rather to care for those who are in need. God provides for the widow in 1 Kings 17, but in Mark 12 the religious leaders take away all a widow has. The contrast exists between God's care and the religious leadership's failure to care.
In the Epistle, we return to the Book of Hebrews, chapter 9. This section picks up on the theme of Christ's second coming. His return will not be to deal with sin. Christ already has dealt with sin once for all by sacrificing Himself. So when Christ returns, He will save those who are eagerly awaiting Him. In these weeks before Advent, we eagerly await Christ. We look for His coming and repent of our failure to care for those in need.
Hymns & Music
The Hymn of the Day is "Lord of All Hopefulness" (LSB 738). This hymn shows how the provision of the Lord comes to us morning, noon, and night. God takes care of us through work and home life as well as when we are asleep. Each stanza focuses on God's good gifts as He gives us joy and bliss, strength and faith, grace and love, calm and peace.
Another hymn to consider is "God of Grace and God of Glory" (LSB 850). Stanza three draws out the conflict present in this week's Gospel. It begins with this:
Cure Your children's warring madness;
Bend our pride to Your control;
Shame our wanton, selfish gladness,
Rich in things and poor in soul.
If we ever devour widows' houses, may our pride be bent to God's control so that we may have compassion on those in need.
Other hymns to consider for this day include "Since Our Great High Priest, Christ Jesus" (LSB 529) and "At the Name of Jesus" (LSB 512).
Additional Resources for Worship & Study
John Kleinig's Concordia Commentary on the Book of Hebrews undoubtedly will prove useful over the next several weeks as we work through sections of this rather challenging Epistle.
---
Looking for additional information on planning for the Twenty-fifth Sunday after Pentecost? Download our planning sheet to help you get started!
Quotations marked LSB are from Lutheran Service Book, copyright © 2006 Concordia Publishing House. All rights reserved.