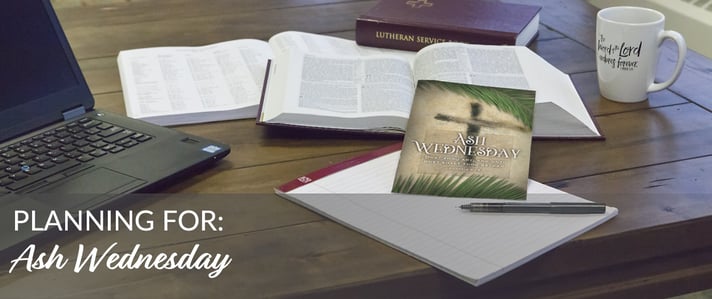 Learn more about the readings, music, and worship-service planning helps for Ash Wednesday (February 14, 2018).
Season & Preparations
Ash Wednesday begins the season of Lent. The season of Lent sets apart the six weeks prior to Easter as a time of repentance and prayer as we walk the way of Christ toward the cross and resurrection. It may be part of your personal piety to participate in various Lenten disciplines, such as abstaining from certain foods, adding time spent praying or reading the Scriptures, or giving additional resources to the poor.
Ash Wednesday itself is a day when we remember our sinfulness and the result of our sinfulness: death. A common practice is for ashes to be applied to the foreheads (or the back of the hand) of parishioners, in the shape of a cross, with the words "remember that you are dust, and to dust you shall return" spoken at the time of application. These words echo what God spoke to Adam after he and Eve fell into sin (Genesis 3:19). You can purchase ashes from CPH, or you can make your own ashes by burning the palm fronds from the previous year's Palm Sunday services and mixing the ashes with a little olive oil.
Ash Wednesday is one of the few days in the liturgical calendar when the color of the paraments is black. (Another day is Good Friday.) You may not have black paraments, and that is okay. The season of Lent utilizes the color violet or purple. If you do not have black paraments, violet paraments are still appropriate.
Readings & Theme
The psalm for the day is Psalm 51:1–13 (14–19). You may wish to use this psalm as part of the Confession and Absolution rite, as it is rich language of confession and faith with lines such as "for I know my transgressions, and my sin is ever before me" (Psalm 51:3). Other lines that stand out are "purge me with hyssop, and I shall be clean; wash me, and I shall be whiter than snow" (v. 7) and of course "create in me a clean heart, O God, and renew a right spirit within me" (v. 10).
The Old Testament Reading, from Joel 2, records the prophet's call to repentance. Verse 12 is a Lenten call: "'Yet even now,' declares the LORD, 'return to Me with all your heart, with fasting, with weeping, and with mourning.'"
Likewise, the Epistle, from 2 Corinthians 5 and 6, highlights the foolishness of Lent, the foolishness of those who follow the way of the cross. Paul writes, "We are treated as impostors, and yet are true; as unknown, and yet well known; as dying, and behold, we live; as punished, and yet not killed; as sorrowful, yet always rejoicing; as poor, yet making many rich; as having nothing, yet possessing everything" (2 Corinthians 6:8–10).
The Gospel, from Matthew 6, records a portion of the Sermon on the Mount. In this section, Jesus gives instructions on praying, giving, and fasting. He warns about how we should practice our righteousness. We are not to show off our practices of piety so we can be seen by others, but we are to pray, give, and fast in secret. As you choose Lenten disciplines, it is good to keep Jesus' words in mind.
Hymns & Music
As the Lenten season begins, remember that it is a common practice to not sing alleluias during Lent. Ash Wednesday hymnody is often a combination of Lenten hymns and Confession and Absolution hymns. The Hymn of the Day is "From Depths of Woe I Cry to Thee" (LSB 607). Other hymns from the Confession and Absolution section of Lutheran Service Book (hymns 606–616) are appropriate. "Chief of Sinners Though I Be" (LSB 611) is perhaps the most well known of these.
The Lenten hymns "O Lord, throughout These Forty Days" (LSB 418) and "Savior, When in Dust to Thee" (LSB 419) are also excellent choices. Also consider Psalm 51 paraphrases, such as "Create in Me" (LSB 956) and the Offertory from Divine Service, Setting Three on pages 192–93.
Additional Resources for Worship & Study
Many churches use a series for midweek Lenten worship that often begins on Ash Wednesday. CPH has numerous resources available for such endeavors, including Restore the Roar!, Sacred Head, Now Wounded, and Words of Life from the Cross, among many others.
The devotional book Miracles of Lent by Walter Snyder may also be a resource you can encourage your congregation to use for their Lenten walk toward the cross and empty tomb.
---
Looking for additional information on planning for Ash Wednesday? Download our planning sheet to help you get started!
Scripture quotations are from the ESV® Bible (The Holy Bible, English Standard Version®), copyright © 2001 by Crossway, a publishing ministry of Good News Publishers. Used by permission. All rights reserved.