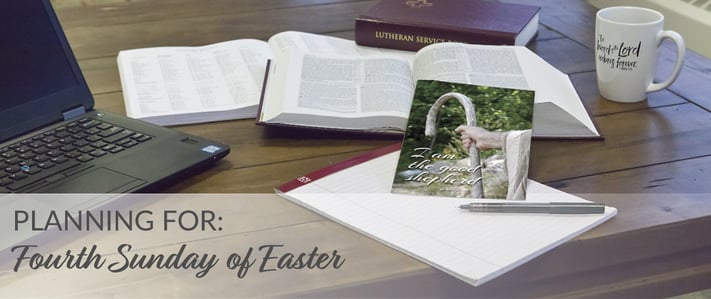 Learn more about the readings, music, and worship-service planning helps for the Fourth Sunday of Easter (April 22, 2018).
Season & Preparations
The Fourth Sunday of Easter is known as Good Shepherd Sunday. The readings and hymns focus on Jesus' words in the Gospel for the day, John 10:11–18: "I am the good shepherd." The season of Easter may seem like an odd time to focus on the shepherd-like qualities of Jesus. But notice how Jesus describes His authority as shepherd in John 10. The good shepherd has the authority to lay down His life for the sheep, and He has the authority to take His life back up again. The good shepherd's identity is wrapped up in Easter power.
The color remains white, but if you have any shepherd- or sheep-related decorations for the sanctuary, such pieces could be appropriate to add for this week.
Readings & Theme
View the readings on Lutheran Calendar >
Some congregations make use of the appointed psalm every Sunday, while some choose other options and may not read or chant a psalm on a regular basis. Easter 4 is one time when you will certainly want to incorporate the psalm because it uses Psalm 23, perhaps the most popular and well-known chapter in all of Scripture. In Year B of the lectionary, Psalm 23 is also the only reading besides the Gospel that uses shepherd imagery. There are several hymn paraphrase options for Psalm 23, but I would recommend reading the psalm aloud as a congregation, perhaps in the King James Version, if it fits your context.
The First Reading for Easter 4 is from Acts 4. In this chapter, Peter and John are proclaiming the good news of Easter, that Christ is risen! A group called the Sadducees gets annoyed at them for proclaiming the resurrection. The Sadducees didn't believe in the resurrection. They got annoyed at Jesus too for preaching something similar (see Matthew 22:23–33). Acts 4 is filled with the resurrection witness of Peter and John.
For the Epistle, we continue working through the Book of 1 John. In this week's section, from chapter 3, John writes about Jesus' love for us in laying down His life. Christ's love for us spurs us on to love one another, even laying our lives down for others.
The Gospel, from John 10, is rich in imagery. One piece that often gets overlooked in this section is verse 16, which says, "And I have other sheep that are not of this fold. I must bring them also, and they will listen to my voice. So there will be one flock, one shepherd." Jesus is focused on unity in His flock. He says He must bring in sheep of another fold. The people of Israel are not the only ones who can call Jesus their good shepherd. People from every tribe, nation, and language are part of Jesus' one flock.
Hymns & Music
The Hymn of the Day for the Fourth Sunday of Easter is "The King of Love My Shepherd Is" (LSB 709). It is a paraphrase of Psalm 23 set to a beautiful Irish tune. Other hymns that fit the good-shepherd theme include "The Lord's My Shepherd, I'll Not Want" (LSB 710), "Savior, like a Shepherd Lead Us" (LSB 711), "Have No Fear, Little Flock" (LSB 735), "O Little Flock, Fear Not the Foe" (LSB 666), and "Shepherd of Tender Youth" (LSB 864). There is no shortage of options. Good-shepherd imagery has been a favorite of Christians for generations.
Additional Resources for Worship & Study
The Arch Book The Twenty-third Psalm is an excellent choice for teaching children this most beloved portion of Scripture. Also appropriate for today's theme is the Arch Book Jesus, My Good Shepherd.
Also, if you plan to work through 1 John for a sermon series or Bible study during the Easter season, I highly recommend Bruce Schuchard's Concordia Commentary: 1–3 John.
---
Looking for additional information on planning for the Fourth Sunday of Easter? Download our planning sheet to help you get started!
Scripture quotations are from the ESV® Bible (The Holy Bible, English Standard Version®), copyright © 2001 by Crossway, a publishing ministry of Good News Publishers. Used by permission. All rights reserved.