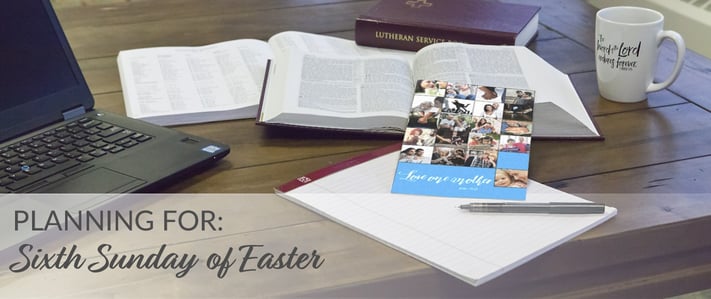 Learn more about the readings, music, and worship-service planning helps for the Sixth Sunday of Easter (May 6, 2018).
Season & Preparations
The season of Easter continues with no change in decoration. The color remains white, and the alleluias of Easter continue as we remember Christ's resurrected presence with us. This will be the final week the paschal candle is lit. Ascension, when we celebrate Christ ascending to His Father's right hand, is only a few days away.
The Sixth Sunday of Easter centers around the theme of the love of God overcoming the world. God's love is for all nations and all people, as we see in the reading from Acts 10. As we live and abide in God's love, we are not overwhelmed by the trials and tribulations of the world. We take heart in Jesus, who has overcome the world. He has chosen and appointed us to go and bear fruit in the world.
Readings & Theme
View the readings on Lutheran Calendar >
The readings for the Sixth Sunday of Easter relate to following God's commands, especially the command to love one another.
In the New Testament Reading, from Acts 10, we hear another sermon from Peter. Peter gives this sermon in the house of Cornelius, a Roman centurion. Before this in chapter 10, Cornelius had a vision of an angel telling him to call for a man called Simon Peter. Cornelius did as the angel commanded. Peter likewise had a vision in which he was commanded to eat unclean foods. Peter went with the envoys Cornelius had sent and visited Cornelius, even though it was unlawful for Peter to visit anyone who wasn't of the Jewish nation. Peter does so because of God's command to him, "What God has made clean, do not call common" (Acts 10:15). Peter then is able to proclaim in the text for today, "Truly I understand that God shows no partiality" (Acts 10:34). God sends His forgiveness to all people; it does not matter what nation a person is from, what language they speak, or what they look like. All people can be brought into the kingdom of God through faith. All nations are to be baptized and that's just what happened with Cornelius and those gathered in his house.
The Epistle and Gospel for today focus on abiding in God's love by keeping His commandments. 1 John 5 even contains the phrase, "And his commandments are not burdensome" (v. 3). While we know we can never be rid of sin entirely before Jesus' return, to do what God commands is not burdensome. It is not burdensome because of God's promise to be with us. It is not burdensome because God first loved us. It is not burdensome for us to follow God's commands because of what Jesus says in the Gospel for today: "You did not choose me, but I chose you and appointed you that you should go and bear fruit and that your fruit should abide, so that whatever you ask the Father in my name, he may give it to you" (John 15:16).
Hymns & Music
The Hymn of the Day for the Sixth Sunday of Easter is "Dear Christians, One and All, Rejoice" (LSB 556). This ten-stanza Martin Luther hymn is filled with excellent imagery that tells the story of salvation. You may wish to split this hymn up, singing the first five stanzas as the opening hymn and the final five stanzas as the Hymn of the Day.
"Lord of All Nations, Grant Me Grace" (LSB 844) is a solid choice to fit the Acts 10 reading. And "Jesus, Thy Boundless Love to Me" (LSB 683) can fit each reading in my opinion. The opening lines are stunning:
Jesus, Thy boundless love to me
No thought can reach, no tongue declare;
Unite my thankful heart to Thee,
And reign without a rival there!
As we seek to love God as He first loved us, the prayer of those four lines echoes with potency. May God so reign without a rival in all our hearts.
Additional Resources for Worship & Study
If you have been working through 1 John for a sermon series or for Bible study during the Easter season, I highly recommend Bruce Schuchard's Concordia Commentary: 1–3 John.
---
Looking for additional information on planning for the Sixth Sunday of Easter? Download our planning sheet to help you get started!
Scripture quotations are from the ESV® Bible (The Holy Bible, English Standard Version®), copyright © 2001 by Crossway, a publishing ministry of Good News Publishers. Used by permission. All rights reserved.
Quotations marked LSB are from Lutheran Service Book, copyright © 2006 Concordia Publishing House. All rights reserved.