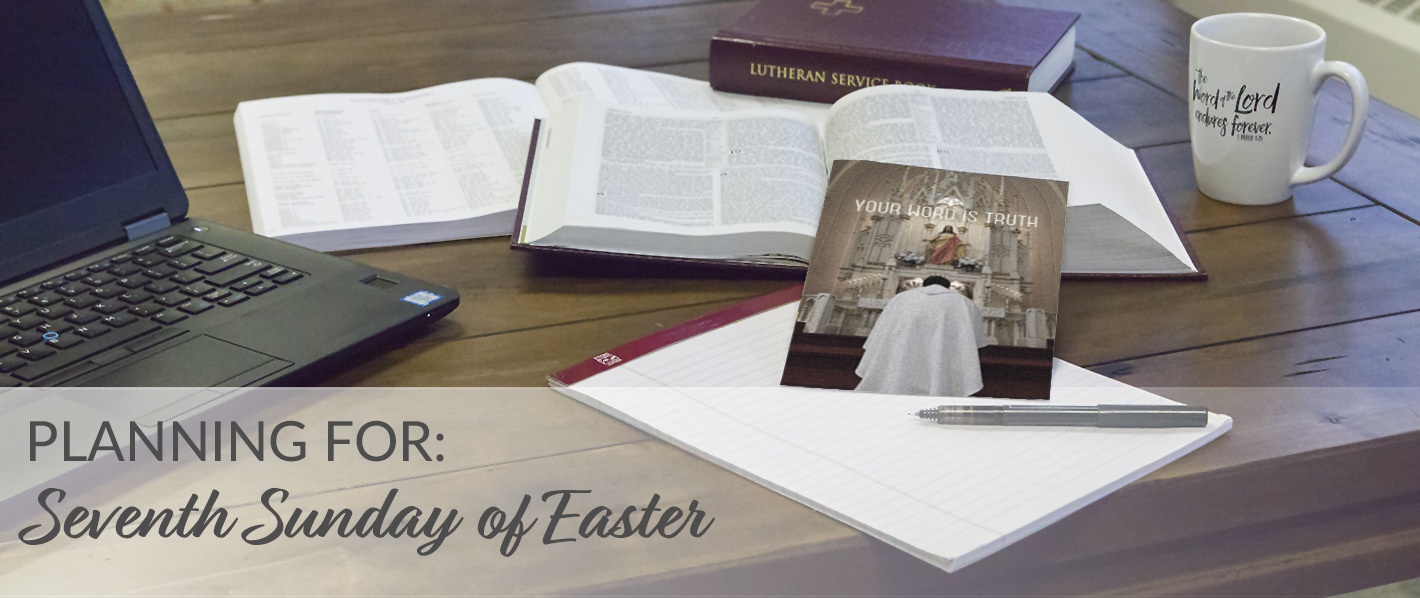 Learn more about the readings, music, and worship-service planning helps for the Seventh Sunday of Easter (May 13, 2018).
Season & Preparations
The Seventh Sunday of Easter is one of the most interesting days in the Church Year. It is a time unlike any other in the church calendar. On this Sunday, we sit in a time between Ascension and Pentecost.
Timothy Maschke writes in Gathered Guests:
The final Sunday of Easter anticipates the sending of the Holy Spirit. A congregation may choose to emphasize the anticipation that the early Christians experienced as they awaited this event. In some ways, this can be compared to a little Advent as Christians remember the hopeful and expectant anticipation of the first Christians as they awaited the Spirit's powerful presence. (pg. 71)
This mini-Advent is a time of hopeful, joyous anticipation. It is a time to remember that Christ keeps His promises, and even though He is ascended, He has not abandoned us. He still rules and reigns over all creation.
Some congregations may choose to forego a Thursday celebration of Ascension and observe Ascension on the Seventh Sunday of Easter. If this is what your congregation plans to do, please review our Ascension post.
The paschal candle should be in the sanctuary but remain unlit for the service on Easter 7.
Readings & Theme
View the readings on Lutheran Calendar >
The First Readings for the season of Easter have been from the book of Acts. These readings have shown the apostles following Jesus' instructions to be witnesses of His resurrection. On the Seventh Sunday of Easter, we have a reading from Acts 1 that shows what the apostles did between Christ's ascension into heaven and Pentecost. The eleven remaining apostles chose two men who were capable of replacing Judas. Their two choices were Joseph Barsabbas (Justus) and Matthias. They prayed to God, saying, "You, Lord, who know the hearts of all, show which one of these two you have chosen to take the place in this ministry and apostleship from which Judas turned aside to go to his own place." (vv. 24–25). They cast lots, and Matthias was chosen.
The Epistle used during the season of Easter has been 1 John. Today, those readings conclude with a section from 1 John 5. In this section, John continues His mission of being sent as a witness of Jesus' resurrection. John writes, "And this is the testimony, that God gave us eternal life, and this life is in his Son. Whoever has the Son has life" (vv. 11–12a).
In the Gospel, from John 17, we are taken back to Jesus praying on the night He was betrayed. Jesus prays to His Father, saying, "As you sent me into the world, so I have sent them into the world." (v. 18). In this interlude between Ascension and Pentecost, we reflect on these words. It is a time of waiting: waiting for the Holy Spirit to descend and empower the apostles, waiting for the news of Christ's resurrection to spread to the ends of the earth, and, ultimately, waiting for Christ to return in glory.
Hymns & Music
The Hymn of the Day for the Seventh Sunday of Easter is "Christ Is the World's Redeemer" (LSB 539). This hymn, now paired with an Irish tune, is attributed to St. Columba, a sixth-century Irish missionary.
Other hymns to consider include "By All Your Saints in Warfare" (LSB 517, stanzas 1, 13, 3), which highlights Matthias, Judas' replacement. Also, because the psalm for the day is Psalm 1, consider "The Man Is Ever Blessed" (LSB 705), a psalm paraphrase by Isaac Watts.
Additional Resources for Worship & Study
Here's a reminder that if you have been working through 1 John for a sermon series or Bible study during the Easter season, I highly recommend Bruce Schuchard's Concordia Commentary: 1–3 John.
---
Looking for additional information on planning for the Seventh Sunday of Easter? Download our planning sheet to help you get started!
Quotations from Gathered Guests by Timothy H. Maschke, copyright © 2003, 2009 Timothy H. Maschke. Published by Concordia Publishing House. Used by permission.
Scripture quotations are from the ESV® Bible (The Holy Bible, English Standard Version®), copyright © 2001 by Crossway, a publishing ministry of Good News Publishers. Used by permission. All rights reserved.