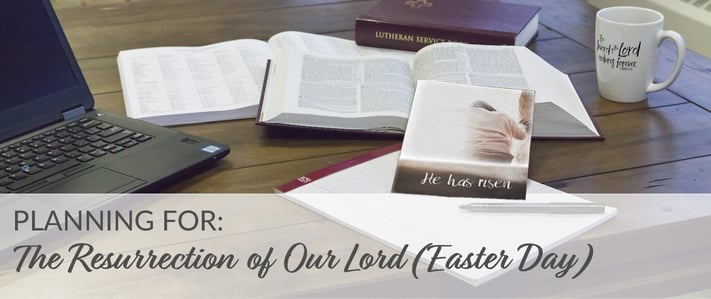 Learn more about the readings, music, and worship-service planning helps for Easter Day (April 1, 2018).
Season & Preparations
Christ is risen! On this Easter Day, we celebrate the astonishing, miraculous resurrection of Jesus, an event that changed the course of history. Yet Easter is not a single day but a season. It is a season during which the risen Christ appears to His followers over the course of forty days until He ascends into the heavens. It is a season of joy and praise, of wonder and mystery, for the power of God has reversed the power of sin and death.
The celebrations of Easter turn from the black of Good Friday and Holy Saturday to the white and gold of Easter. Your congregation may have many flowers decorating the sanctuary space, which may take a bit of planning. If your congregation has multiple options for white paraments, ones with accents of gold and "Alleluia" imprinted are most appropriate.
If you celebrated an Easter Vigil, the paschal candle led the procession into the sanctuary. The paschal candle should be lit throughout the season of Easter because it represents Christ's presence in the midst of His people.
Readings & Theme
View the readings on Lutheran Calendar >
If your congregation offers a sunrise service, there are readings for that specific occasion. Those readings include the song of Moses from Exodus 15, which recounts God's deliverance of Israel at the Red Sea. The Gospel for Easter sunrise is John's account of Easter morning, when Mary Magdalene finds Jesus' tomb empty and runs to tell Peter and John, and they come and see the empty tomb. Then Jesus appears to Mary, but she mistakes Him for the gardener until Jesus speaks her name. She then tells the disciples the stunning news that she has seen the Lord.
The readings for Easter Day are quite different. The Old Testament Reading is from Isaiah 25, which recounts God's promise to all nations that He will make a feast for them of rich food and well-aged wine.
In the Epistle, from 1 Corinthians 15, Paul speaks of Christ's death and resurrection as things "of first importance" (v. 3) that he passed on to the Church in Corinth. Paul refers to the numerous people whom Jesus appeared to after His resurrection.
The Gospel is from Mark 16, which is a bit peculiar. Three women—Mary Magdalene, Mary the mother of James, and Salome—go to Jesus' tomb to anoint His body with spices. The stone is already rolled back from the tomb, and the women go inside to discover that Jesus is not there. A young man is sitting inside the tomb in a white robe. He tells them that Jesus is not there, that Jesus is risen. But Mark says that the women "went out and fled from the tomb, for trembling and astonishment had seized them, and they said nothing to anyone, for they were afraid" (v. 8). The earliest manuscripts of Mark's Gospel end this way, with an announcement of Jesus' resurrection but no appearances of Jesus. While I cannot speak to Mark's intentions, it seems to me that we today are left in a similar predicament. Christ is risen from the dead and He appeared to many people, but He has not appeared to us. We trust in the words and testimony of the witnesses who did see Him appear, for we know from Paul and from the other Gospel writers that Jesus appeared many times to numerous people, including Paul himself on the road to Damascus.
Hymns & Music
The Hymn of the Day for Easter Day is "Christ Jesus Lay in Death's Strong Bands" (LSB 458), a Martin Luther hymn. Your congregation likely has its own list of favorite Easter hymns. Many congregations sing "Jesus Christ Is Risen Today" (LSB 457) as the processional or opening hymn. "I Know That My Redeemer Lives" (LSB 461) is quite popular. Also consider "He's Risen, He's Risen" (LSB 480), which is the only hymn in Lutheran Service Book written and composed by C. F. W. Walther, the first president of The Lutheran Church—Missouri Synod.
For distribution hymns, "At the Lamb's High Feast We Sing" is excellent (LSB 633). Not only does it connect well to the Old Testament Reading, but stanza 7 also begins with "Easter triumph, Easter joy!"
Additional Resources for Worship & Study
There are numerous musical resources available on CPH.org. For teaching the Easter story to children, the Arch Book Jesus Christ Is Risen Today! is a great option. Also, Mary Magdalene's Easter Story pairs well with the Easter sunrise readings.
---
Looking for additional information on planning for Easter Day? Download our planning sheet to help you get started!
Scripture quotations are from the ESV® Bible (The Holy Bible, English Standard Version®), copyright © 2001 by Crossway, a publishing ministry of Good News Publishers. Used by permission. All rights reserved.
Quotations marked LSB are from Lutheran Service Book, copyright © 2006 Concordia Publishing House. All rights reserved.