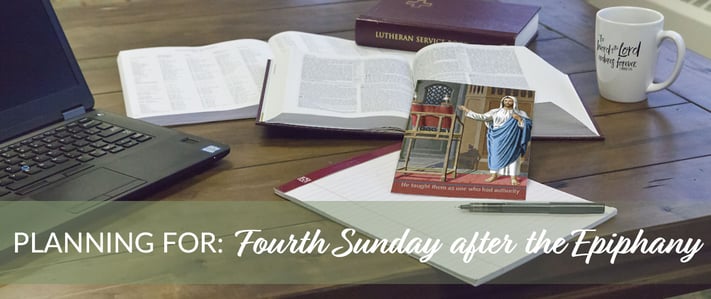 Learn more about the readings, music, and worship-service planning helps for the Fourth Sunday after the Epiphany (January 28, 2018).
Season & Preparations
Throughout the season of Epiphany, Jesus reveals more and more about Himself. This week, He reveals that He has power over unclean spirits and that He speaks God's Word with authority.
There are no necessary changes in decorations or colors from last week to this week. The paraments remain green.
Readings & Theme
The Old Testament Reading, from Deuteronomy 18, records God's promise of a prophet who will speak with His own words. We see this prophecy fulfilled every time God raises up a prophet throughout the Old Testament, but ultimately we see it fulfilled in His Son, Jesus Christ. As Hebrews 1 says, "Long ago, at many times and in many ways, God spoke to our fathers by the prophets, but in these last days He has spoken to us by His Son" (Hebrews 1:1–2).
The Gospel for the day, Mark 1:21–28, reveals that Jesus speaks with God's authority. It also shows how Jesus acts with God's authority and reveals that Jesus is the one who has power over spiritual forces. This passage records Jesus' first miracle in the Book of Mark, when He encounters a demon-possessed man in the synagogue. I remember seeing a movie depiction of this scene once where the demon-possessed man in Mark 1 was depicted more like the demon-possessed man in Mark 5. But Mark 1 doesn't record any sign that anybody except Jesus knew this man was possessed by a demon. It seems he looked normal enough to be in the synagogue. The teaching of Jesus provokes this demon to confront Jesus—to its demise.
Today's Epistle, from 1 Corinthians 8, continues Epiphany's walk through 1 Corinthians 6–9. Paul encourages the Corinthians to consider those who are weak in faith when they make choices in Christian freedom. Paul calls on those who understand that meat sacrificed to idols is nothing to refrain from eating, unless eating it will cause others to stumble in their faith. In this way, Christians are to give up their freedom to do what is permitted in order to show love to their neighbors.
Hymns & Music
The Hymn of the Day is "Son of God, Eternal Savior" (LSB 842). One focus of this hymn is unity within the Church, which can come only through Christ. This reflects Paul's concern in the Epistle for the day. Stanza two begins, "As You, Lord, have lived for others, So may we for others live."
Another hymn that fits the theme of the day and the season of Epiphany is "Praise the One Who Breaks the Darkness" (LSB 849). Stanza two includes the line "Praise the One who drove out demons With the piercing, two-edged sword." This is a nice reflection of Hebrews 4:12, which says, "For the word of God is living and active, sharper than any two-edged sword." This connects back to the Old Testament Reading, where God promises a prophet who will speak with His own words. Jesus is the Word of God incarnate, who speaks God's Word with undeniable authority. The unclean spirits flee before Jesus as He wields the piercing, two-edged sword of God's Word.
Another choice to fit today's Gospel is "'Away from Us!' the Demon Cried" (LSB 541). This text follows Mark 1:23–26 in the first two stanzas. Then in stanzas three through five, it turns to Christ's activity among us today.
Additional Resources for Worship & Study
As I have mentioned in previous weeks, if you plan to work with 1 Corinthians through the Epiphany season, Gregory Lockwood's Concordia Commentary: 1 Corinthians should prove useful.
The topics of demon possession and spiritual warfare might come up in light of today's Gospel. Two books by Robert H. Bennett might be good recommendations for you or your parishioners. The first is called I Am Not Afraid: Demon Possession and Spiritual Warfare. This book covers true accounts of demon possession in the Lutheran Church of Madagascar. The second is called Afraid: Demon Possession and Spiritual Warfare in America. As the title suggests, this book deals with the topic in an American context. This is a challenging topic that might be too heavy for some people. Previews of the books are available in the links above, which can help you discern when to recommend the books to others.
---
Looking for additional information on planning for the Fourth Sunday after the Epiphany? Download our planning sheet to help you get started!
Scripture quotations are from the ESV® Bible (The Holy Bible, English Standard Version®), copyright © 2001 by Crossway, a publishing ministry of Good News Publishers. Used by permission. All rights reserved.
Quotations marked LSB are from Lutheran Service Book, copyright © 2006 Concordia Publishing House. All rights reserved.
LSB 849 text © 1987 Hope Publishing Co.