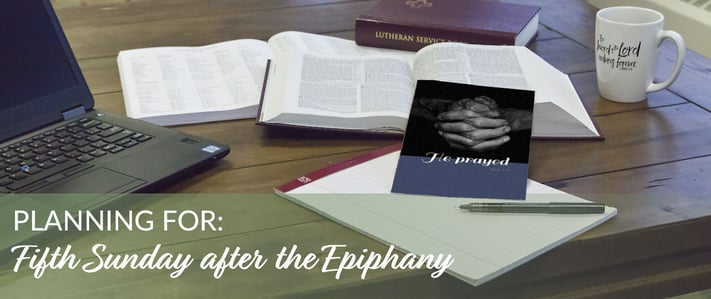 Learn more about the readings, music, and worship-service planning helps for the Fifth Sunday after the Epiphany (February 4, 2018).
Season & Preparations
Throughout the season of Epiphany, Jesus reveals who He is. We have learned that He is Lord and Messiah, that He is the Son of God and filled with the Holy Spirit, that He has power over unclean spirits, and that He speaks God's Word with authority. This week, we learn He has power over physical ailments and that His purpose of preaching the Gospel must be carried out in many locations.
There are no necessary changes in decorations or colors from last week to this week. The paraments remain green. However, they will change to white next week as Epiphany concludes with the Transfiguration of Jesus.
Readings & Theme
The Gospel reading for Epiphany 5 continues the march through Mark 1. In this section, Jesus heals Simon's mother-in-law of a fever. I have heard the fever dealt with in two conflicting ways. Some people wish to point out Jesus' care of all ailments, as a fever is no big deal. Others like to point out that fevers could easily kill people in the first century. My advice would be not to make a judgment call on the severity and necessity of the healing. We don't know the circumstances well enough to make such judgments with certainty. We know the disciples told Jesus about the fever and Jesus healed her. Perhaps this fever would have run its course in a few days. Perhaps it would have killed her. Jesus heals all diseases.
After Simon's mother-in-law is healed, the whole city gathers at the door, and Jesus heals many sick people and casts out many demons. Then Jesus rises early in the morning and goes to a desolate place to pray. The disciples find Him, and He tells them it is time to move on to other towns to preach.
There are several places to focus on in this text to connect it to Epiphany. While Jesus cast out a demon in last week's Gospel reading, Simon's mother-in-law is the first recorded physical healing in Mark's Gospel. Jesus' power is not limited to the spiritual realm, but He has power over any physical ailment. After healing numerous people in both body and spirit, Jesus withdraws and reveals something else: His purpose to preach. He cannot stay in one place, but must continue to spread the good news of the kingdom of God in other towns.
The Old Testament reading from Isaiah 40 finds connection to the Gospel reading in two ways. First, verses 21–28 speak to God's power. He is the Creator. He has control over all the earth. He can change it in a moment. Second, verses 29–31 reveal what God does with all His might: "He gives power to the faint" (v. 29). Those who wait for the Lord will be renewed, just like Simon's mother-in-law, just like everyone healed in Capernaum and throughout Galilee.
The Epistle reading continues Epiphany's walk through 1 Corinthians. In this section from chapter 9, Paul speaks of becoming "all things to all people" (v. 22) in order to save some by the power of the Gospel.
Hymns & Music
The Hymn of the Day is "Hail to the Lord's Anointed" (LSB 398). The connection between the Gospel and Old Testament finds expression in stanza two:
He comes with rescue speedy
To those who suffer wrong,
To help the poor and needy
And bid the weak be strong.
Other hymns to consider include "Fight the Good Fight" (LSB 664). Stanza two connects to the Epistle while stanza four connects to the Old Testament Reading and Gospel for the day.
Also, "O Son of God, in Galilee" (LSB 841) shows Jesus' ministry expanding into Galilee with healing and preaching just as He says He must do.
Additional Resources for Worship & Study
As I have mentioned in previous weeks, if you plan to work with 1 Corinthians through the Epiphany season, Gregory Lockwood's Concordia Commentary 1 Corinthians should prove useful. Concordia Commentaries are also available for further research on this week's Old Testament Reading and Gospel.
---
Looking for additional information on planning for the Fifth Sunday after the Epiphany? Download our planning sheet to help you get started!
Scripture quotations are from the ESV® Bible (The Holy Bible, English Standard Version®), copyright © 2001 by Crossway, a publishing ministry of Good News Publishers. Used by permission. All rights reserved.
Quotations marked LSB are from Lutheran Service Book, copyright © 2006 Concordia Publishing House. All rights reserved.