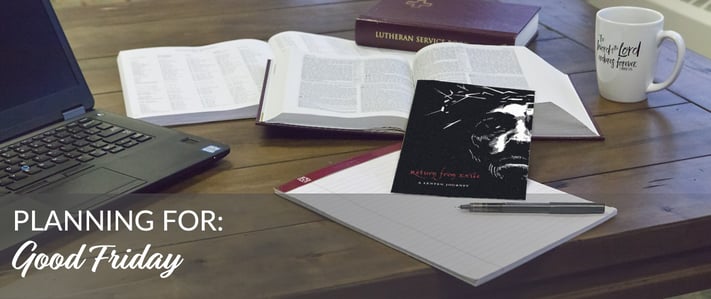 Learn more about the readings, music, and worship-service planning helps for Good Friday (March 30, 2018).
Season & Preparations
Timothy Maschke writes, "Good Friday is the most solemn of all days in the Christian Church Year . . . yet a note of joy remains as the title of the day indicates: Good Friday" (Gathered Guests, 68).
The solemnness of the day is indicated by the color black. On the previous day, Holy Thursday, the altar was stripped, the furniture and paraments removed. On Good Friday, black paraments may be used. If you have no black paraments, leaving the altar, pulpit, and lectern bare is quite common. Many congregations drape a purple cloth over a cross through Lent; Good Friday is the day to change that cloth to black.
Lutheran Service Book: Altar Book has two services for Good Friday. One is known as the Chief Service, which includes the Lord's Supper (see pp. 511–24). The other service is Tenebrae Vespers, which does not include the Lord's Supper (see pp. 525–28). Both include a reading of the Passion Narrative from John's Gospel. The Chief Service includes all of chapters 18 and 19. The Tenebrae Vespers includes only chapter 19. Both have the hymn "O Sacred Head, Now Wounded" (LSB 450) interspersed throughout the reading of the Gospel.
Maschke writes, "Another Good Friday service that has become popular is the Tre Ore service. The title refers to the 'three hours'—from noon to 3 p.m.—on Good Friday when there was darkness" (Gathered Guests, 307). This meditative and devotional service often focuses on the seven words of Jesus from the cross or other Lenten themes perhaps related to the midweek Lenten series the congregation has been using.
Many congregations utilize some hybrid service of these three options that allows for meditation on Christ's Passion and death for the forgiveness of our sins.
Readings & Theme
View the readings on Lutheran Calendar >
The focus of the day is on the Passion Narrative from John. Whether you use only John 19:17–30, all of chapter 19, or all of chapters 18 and 19, John's telling of Christ's death will drive the service. Depending on the service you use, you may read only the Passion Narrative and not use the Epistle and Old Testament Reading for the day.
The Epistle, from Hebrews 4 and 5, focuses on Jesus as the Great High Priest, who acts on behalf of His people. Hebrews 4:15 says, "For we do not have a high priest who is unable to sympathize with our weaknesses, but one who in every respect has been tempted as we are, yet without sin." Good Friday is perhaps the most profound time to meditate upon the two natures of Christ. He is so clearly human on this day. He suffers. He dies. Yet He is so clearly God on this day. He suffers and dies without sinning, without retaliating against His enemies.
The Old Testament Reading, from Isaiah 52 and 53, records some of the most familiar prophetic language about Christ's death, with lines such as these:
"His appearance was so marred, beyond human semblance." (52:14)
"He was despised and rejected by men, a man of sorrows and acquainted with grief." (53:3)
"Surely He has borne our griefs and carried our sorrows; yet we esteemed Him stricken, smitten by God, and afflicted. But He was pierced for our transgressions; He was crushed for our iniquities; upon Him was the chastisement that brought us peace, and with His wounds we are healed." (53:4–5)
"By His knowledge shall the righteous one, My servant, make many to be accounted righteous, and He shall bear their iniquities." (53:11)
Hymns & Music
The Hymn of the Day for Good Friday is "Sing, My Tongue, the Glorious Battle" (LSB 454). Stanza 4 is beautiful:
Faithful cross, true sign of triumph,
Be for all the noblest tree;
None in foliage, none in blossom,
None in fruit thine equal be;
Symbol of the world's redemption,
For the weight that hung on thee!
As noted above, "O Sacred Head, Now Wounded" (LSB 450) is typically sung alternating with the Passion Narrative from John. Other hymns commonly sung on Good Friday include "Go to Dark Gethsemane" (LSB 436), "Stricken, Smitten, and Afflicted" (LSB 451), "O Dearest Jesus, What Law Hast Thou Broken" (LSB 439), and "Upon the Cross Extended" (LSB 453).
Additional Resources for Worship & Study
Arch Books are a good way to teach the lessons and themes of Holy Week to children. Selections that fit Good Friday include The Week That Led to Easter, Good Friday, and The Day Jesus Died. You can find numerous other resources for Holy Week music and devotions at CPH.org.
---
Looking for additional information on planning for Good Friday? Download our planning sheet to help you get started!
Scripture quotations are from the ESV® Bible (The Holy Bible, English Standard Version®), copyright © 2001 by Crossway, a publishing ministry of Good News Publishers. Used by permission. All rights reserved.
Quotations from Gathered Guests by Timothy H. Maschke, copyright © 2003, 2009 Timothy H. Maschke. Published by Concordia Publishing House. Used by permission.

Quotations marked LSB are from Lutheran Service Book, copyright © 2006 Concordia Publishing House. All rights reserved.