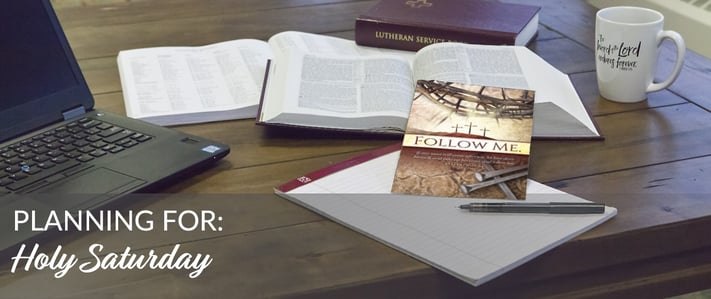 Learn more about the readings, music, and worship-service planning helps for Holy Saturday (March 31, 2018).
Season & Preparations
Your congregation's traditions related to Holy Saturday may fall within a wide range. For some, Holy Saturday is a day to prepare for Easter Sunday and the annual Easter breakfast. For others, Holy Saturday is a traditional date for a community Easter egg hunt. But there is also a rich tradition of gathering for worship on Holy Saturday as the journey of Holy Week continues.
There are two worship-service options for Holy Saturday. The first is a service of waiting that focuses on Christ's rest in the tomb. The mood of this service remains somber and meditative. The color remains the black of Good Friday. This is the service this post will cover.
The second possible service of Holy Saturday is the Vigil of Easter. I recommend that you read Maschke's recounting of the history and explanation of this service in Gathered Guests (pp. 309–17) and the description in Lutheran Service Book: Altar Book (pp. 529–51) for more details.
Readings & Theme
View the readings on Lutheran Calendar >
The Old Testament Reading for Holy Saturday is the story of Daniel and the lions' den from Daniel 6. Many people likely learned this story in Sunday School and have heard it far less often as adults. Daniel was shut into the lions' den much like Christ was shut in the tomb. It was presumed that Daniel would die, but he came out alive and unharmed. Christ was truly dead when He was shut in the tomb, but He still came out alive, raised from death to life.
The Epistle, from 1 Peter 4, focuses on the people of God waiting for Christ's return and our own resurrection. Peter writes, "The end of all things is at hand; therefore be self-controlled and sober-minded for the sake of your prayers. Above all, keep loving one another earnestly, since love covers a multitude of sins" (vv. 7–8).
The Gospel, from Matthew 27, records Jesus' burial. Joseph of Arimathea asked Pilate for the body of Jesus. Then Jesus was buried in Joseph's own new tomb. This section also recounts how the chief priests and Pharisees recalled Jesus' prophetic word that He would rise from the dead. So they schemed together and sealed the tomb, then set a guard to make sure Jesus stayed in the tomb.
This day is truly about waiting. We know what is coming on Easter morning. We know the tomb will be empty, that Jesus will appear to His disciples and to many others. And yet we wait. We know Jesus is returning, that He will raise the dead and give everlasting life to all who believe in Him. And yet we wait.
Hymns & Music
The Hymn of the Day for Holy Saturday is "O Darkest Woe" (LSB 448). This hymn is one of the few Holy Week hymns that does not focus on the cross and the action of Christ dying, but on Christ's death having happened. The timing of the hymn fits one day of the Church Year: Holy Saturday.
Other hymns to consider for Holy Saturday include "Jesus, I Will Ponder Now" (LSB 440) and "Were You There" (LSB 456). From the latter, you can choose to leave out stanza four, which focuses on Christ's resurrection.
Additional Resources for Worship & Study
Arch Books are a good way to teach the lessons and themes of Holy Week to children. Selections that fit Holy Saturday include The Week That Led to Easter and Daniel and the Lions.
---
Looking for additional information on planning for Holy Saturday? Download our planning sheet to help you get started!
Scripture quotations are from the ESV® Bible (The Holy Bible, English Standard Version®), copyright © 2001 by Crossway, a publishing ministry of Good News Publishers. Used by permission. All rights reserved.