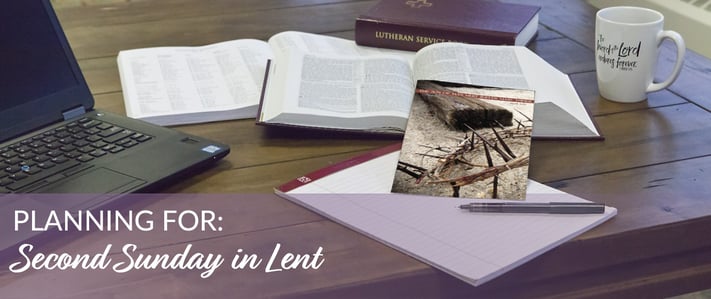 Learn more about the readings, music, and worship-service planning helps for the Second Sunday in Lent (February 25, 2018).
Season & Preparations
The season of Lent is a time of repentance and a time of discipline. You may choose a Lenten discipline such as abstaining from a particular food, giving more resources to the poor, or spending extra time in prayer and Scripture. All of these are noble pursuits that perhaps find their roots in Jesus' words in today's Gospel, Mark 8:27–38. Jesus says, "If anyone would come after Me, let him deny himself and take up his cross and follow Me" (v. 34).
Lent is a journey away from self and toward the cross. Your sanctuary space may draw attention to the cross this Lenten season, with specific decorations of purple or a crown of thorns. The Gospels of Mark and John both record Jesus being dressed in a purple robe or cloak shortly before His crucifixion. Purple, the color for royalty, was put on Jesus to mock Him as the supposed king of the Jews. Yet we continue the use of purple for Lent, for we know that Jesus is King of the universe, and the glory and beauty of His counterintuitive kingship is seen most aptly on the cross.
The readings for the Second Sunday in Lent reflect themes of following Jesus through the challenges of bearing the cross, through the challenges of suffering.
Readings & Theme
In the Old Testament Reading, we see God's call to Abram in Genesis 17 to walk before God blamelessly. God changes Abram's name to Abraham and promises to make him the father of many nations. Abraham's life was one that included suffering, but he followed God's call in faith.
In the Epistle, from Romans 5, Paul calls on us to "rejoice in our sufferings, knowing that suffering produces endurance, and endurance produces character, and character produces hope, and hope does not put us to shame" (vv. 3–5). Following Jesus produces suffering. The way of the cross is foolishness to those who do not know the hope of Christ's resurrection. We know our Lenten journey will end in the joys of the Easter resurrection, but the way of the cross is still a challenge that is marked by suffering.
The Gospel for the day, from Mark 8, is packed with material worth considering for preaching. Peter confesses Jesus as the Christ. Jesus begins to teach the disciples about the necessity of His suffering, death, and resurrection. Peter tries to talk Jesus out of it. Jesus rebukes Peter for setting his mind on the things of man instead of the things of God. Then Jesus says that anyone wishing to come after Him must deny themselves, pick up their cross, and follow Jesus. Of course, we must follow Jesus because nobody else knows the way out of the grave. Nobody else knows how to defeat death. So, we follow Jesus and lose our lives for His sake so that He might save us.
Hymns & Music
The Hymn of the Day for Lent 2 is "Lord, Thee I Love with All My Heart" (LSB 708). This section of stanza 2 reveals why this is a perfect hymn for today's Gospel:
Let no false doctrine me beguile;
Let Satan not my soul defile.
Give strength and patience unto me
To bear my cross and follow Thee.
We see Peter's false doctrine, his soul defiled by Satan, his inability to bear the cross and follow Jesus. And yet we know Jesus forgives and restores Peter, and Jesus forgives and restores us when we fail to follow Him as well.
Other hymns to consider include "Go to Dark Gethsemane" (LSB 436). The final lines of stanza 2 stand out for today's themes: "Shun not suff'ring, shame, or loss; Learn from Him to bear the cross." Also consider "'Come, Follow Me,' the Savior Spake" (LSB 688), which is a good option for themes of bearing the cross.
Additional Resources for Worship & Study
The devotional book Miracles of Lent by Walter Snyder may be a resource you can encourage your congregation to use for their Lenten walk toward the cross and empty tomb. Also, Jeff Hemmer's book Man Up!: The Quest for Masculinity may be helpful for understanding the concept of sacrifice that comes with denying oneself, picking up one's cross, and following Jesus.
---
Looking for additional information on planning for the Second Sunday in Lent? Download our planning sheet to help you get started!
Scripture quotations are from the ESV® Bible (The Holy Bible, English Standard Version®), copyright © 2001 by Crossway, a publishing ministry of Good News Publishers. Used by permission. All rights reserved.
Quotations marked LSB are from Lutheran Service Book, copyright © 2006 Concordia Publishing House. All rights reserved.