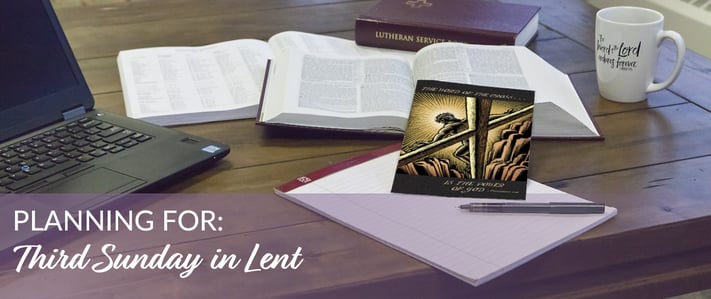 Learn more about the readings, music, and worship-service planning helps for the Third Sunday in Lent (March 4, 2018).
Season & Preparations
The season of Lent is a time of repentance and remembrance, a time to reflect on the unexpected ways in which God has chosen to interact with and deliver His people. The theme of this week might relate to how surprising God is, how unexpected. We'll see this surprising God's actions unfold through the readings for the week. The color for Lent remains purple or violet, so there shouldn't be any changes in regard to decorations this week.
Readings & Theme
View the readings on Lutheran Calendar >
The Old Testament Reading, from Exodus 20, records God sharing the Ten Commandments with Moses. Before God shares what we have come to call the Ten Commandments, He begins with these words: "I am the LORD your God, who brought you out of the land of Egypt, out of the house of slavery" (v. 2). Since God is God and has delivered His people Israel out of slavery, God gives guidance on how the Israelites can follow His will and live in right relationship with Him. This type of life begins by worshiping Him and Him alone. We often focus on the commandment aspect of this text; however, don't lose sight of the Gospel in it. God delivered Israel. God saved them. While repentance is certainly a theme of Lent, so is remembrance. God remembered His people and saved them. One of the ways we remember God's love toward us is by following His commandments.
The Epistle, from 1 Corinthians 1, is a great Lenten text. Paul writes, "For the word of the cross is folly to those who are perishing, but to us who are being saved it is the power of God" (v. 18). God acts in an unexpected way when He chooses to save Israel, a people of little notoriety and power. God acts in an unexpected way when He chooses to save the world from sin by sending His Son to be executed on a cross. It is a message of foolishness and folly to the world. Why would we put our trust in a God-man who was killed? Because He didn't stay dead.
In today's Gospel, from John 2, we hear the promise of the resurrection, another unexpected event of Jesus. Jesus clears the temple of all the money-changers and various salespeople. When the Jews demand that Jesus show them a sign demonstrating His authority for causing such a disturbance, He gives an unexpected answer: "Destroy this temple, and in three days I will raise it up" (John 2:19). They don't realize Jesus is referencing His own body, His resurrection from the dead. And that is, of course, unexpected. Nobody expects an executed man to rise from the grave. As we journey toward the cross and the temple of Jesus' body being destroyed, we keep in mind His promise in this text to rise from the dead.
Hymns & Music
The Hymn of the Day for Lent 3 is "May God Bestow on Us His Grace" (LSB 823/824), a Martin Luther hymn. These lines from stanza 2 capture aspects of the theme for the day:
For Thou shalt judge the earth, O Lord,
Nor suffer sin to flourish;
Thy people's pasture is Thy Word
Their souls to feed and nourish,
In righteous paths to keep them.
Some Lenten hymns to consider that may pair well with today's Epistle are "When I Survey the Wondrous Cross" (LSB 425/426) and "In the Cross of Christ I Glory" (LSB 427).
Also consider "These Are the Holy Ten Commands" (LSB 581) to pair with the Old Testament Reading, and perhaps "No Temple Now, No Gift of Price" (LSB 530) to pair with the Gospel.
Additional Resources for Worship & Study
The Arch Book The Ten Commandments is a useful resource for teaching the story of the Ten Commandments to children. Also, if you haven't looked at the 2017 edition of Luther's Small Catechism with Explanation, this might be a good week to have such a resource.
And as noted in previous weeks, the devotional book Return from Exile: A Lenten Journey may be a resource you can encourage your congregation to use for their Lenten walk toward the cross and empty tomb.
---
Looking for additional information on planning for the Third Sunday in Lent? Download our planning sheet to help you get started!
Scripture quotations are from the ESV® Bible (The Holy Bible, English Standard Version®), copyright © 2001 by Crossway, a publishing ministry of Good News Publishers. Used by permission. All rights reserved.
Quotations marked LSB are from Lutheran Service Book, copyright © 2006 Concordia Publishing House. All rights reserved.