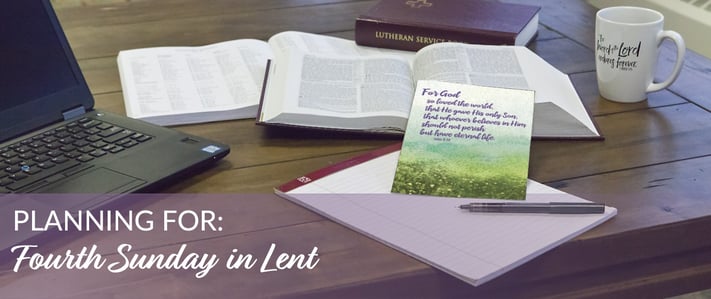 Learn more about the readings, music, and worship-service planning helps for the Fourth Sunday in Lent (March 11, 2018).
Season & Preparations
The season of Lent is a journey to the cross, a journey toward death and deliverance. It is a journey of faith as we take up our cross and follow Jesus. The readings for this week focus on God's deliverance from death through unexpected means, through a bronze serpent on a pole, by grace through faith, and through the crucifixion of Jesus.
The paraments remain purple or violet, but if you have a banner or other artwork with the words of John 3:16 or Ephesians 2:8, they would be a welcome addition to the worship space.
Readings & Theme
View the readings on Lutheran Calendar >
The Old Testament Reading, from Numbers 21, begins with the Israelites grumbling against God and against Moses. They complain about being taken out of Egypt only to die in the wilderness. They loathe the worthless food that God has provided for them. God answers by sending fiery serpents among them. It's unclear what is meant by fiery serpents. Perhaps they looked like flames. Perhaps their bites caused fevers. In any case, a bite from a fiery serpent resulted in death, but God provided a way of deliverance. God told Moses to make a bronze serpent and set it on a pole, and whoever looked at the bronze serpent lived.
This episode foreshadows the Gospel for Lent 4, from John 3. Jesus tells Nicodemus, "And as Moses lifted up the serpent in the wilderness, so must the Son of Man be lifted up, that whoever believes in Him may have eternal life" (vv. 14–15). Jesus here is predicting His death and the manner of His death: being lifted up on a cross. While the Israelites looked at the bronze serpent and lived, we look to the cross, where Christ was lifted up, and live forever.
The situation in the wilderness with the fiery serpents is an example of what Paul speaks of in the Epistle, from Ephesians 2. Paul writes, "Even when we were dead in our trespasses, [God] made us alive together with Christ" (v. 5). The Israelites were dead after they'd been bitten by serpents. But they were made alive again when they looked up to the bronze serpent. Likewise, Paul writes, "For by grace you have been saved through faith. And this is not your own doing; it is the gift of God" (v. 8). God gave the gift of the bronze serpent, which saved the Israelites by grace. Moses told them to look up to the bronze serpent and live. They did so and were saved by grace, through faith.
Hymns & Music
The Hymn of the Day for Lent 4 is "God Loved the World So That He Gave" (LSB 571). This hymn connects with the Gospel quite nicely, as the title reveals. It also has some connection to the Old Testament Reading, especially in stanzas 3 and 5, which reference salvation for sinners from death. If you are looking to connect to the Epistle, "By Grace I'm Saved" (LSB 566) is an excellent choice.
There are numerous Lenten choices focusing on the cross that would be appropriate, including "When I Survey the Wondrous Cross" (LSB 425/426), "Cross of Jesus, Cross of Sorrow" (LSB 428), and "In Silent Pain the Eternal Son" (LSB 432).
Additional Resources for Worship & Study
Two Arch Books to consider for this week are Moses and the Bronze Snake and Nicodemus and Jesus.
This art print, which has a line from the day's Epistle, may also be a nice addition to your bulletin or slideshow, or perhaps it could be included in a sermon or children's sermon illustration.
---
Looking for additional information on planning for the Fourth Sunday in Lent? Download our planning sheet to help you get started!
Scripture quotations are from the ESV® Bible (The Holy Bible, English Standard Version®), copyright © 2001 by Crossway, a publishing ministry of Good News Publishers. Used by permission. All rights reserved.