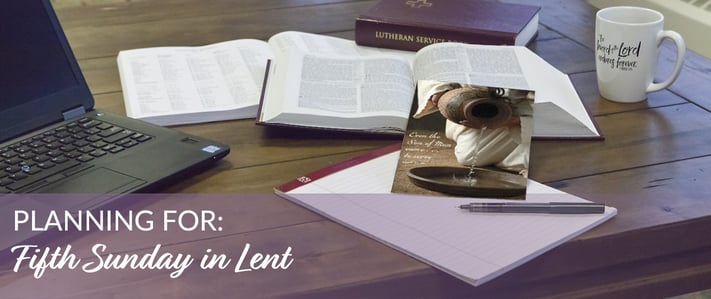 Learn more about the readings, music, and worship-service planning helps for the Fifth Sunday in Lent (March 18, 2018).
Season & Preparations
The Lenten journey to the cross continues. This week, themes of service and sacrifice, faith and forgiveness are evident in the readings. The season of Lent is an appropriate time to consider these themes. Perhaps your Lenten discipline this year will involve serving others or sacrificing your time or resources for the benefit of others. Perhaps this Lent, you need to hear God's forgiveness. Perhaps you are struggling to forgive others as you have been forgiven. Whatever the case may be, I hope the readings, liturgy, and music of Lent 5 bear fruit in your life.
The color remains violet or purple this week, but it will change next week as we enter Holy Week.
Readings & Theme
View the readings on Lutheran Calendar >
The Old Testament Reading is from Jeremiah 31. It contains the promise of a new covenant between God and Israel. In this new covenant, God's Law will be written on His people's hearts. They will all know God and will be His people. The pericope ends with these beautiful words of promise: "For I will forgive their iniquity, and I will remember their sin no more" (v. 34).
The Epistle is from Hebrews 5. This text speaks of Jesus as high priest according to the order of Melchizedek. Melchizedek was the king of Salem and priest of God Most High. Abram meets Melchizedek in Genesis 14. The two share a meal of bread and wine, and Melchizedek blesses Abram. "And Abram gave him a tenth of everything" (Genesis 14:20). Jesus, like Melchizedek, is both priest and king, but Jesus is more than simply a priest and a king. Jesus is the Great High Priest. Jesus is the King of kings.
The Gospel for today is Mark 10:35–45. There is an option to include Mark 10:32–34, and I recommend that you do include these three verses because they record Jesus predicting His death and resurrection for the third time in Mark's Gospel. As we journey toward the cross and the empty tomb throughout Lent, it is good to be reminded that Jesus' death and resurrection was not a surprise to Him. He spoke of it openly to His disciples.
The second part of this text involves James and John asking Jesus if they can sit at His left and right hands in His glory. This creates some tension with the other ten disciples. Jesus says, "To sit at My right hand or at My left is not Mine to grant, but it is for those for whom it has been prepared" (v. 40). As we journey toward the cross, I can't help but think of the two criminals who were crucified on either side of Jesus—the two who were on Jesus' right and on Jesus' left when He was strangely, yet unmistakably, in glory on the cross.
Hymns & Music
The Hymn of the Day for Lent 5 is "My Song Is Love Unknown" (LSB 430). The opening lines of stanza 1 reveal how God's love does not find those who are already lovely and lovable, but God's love makes us lovely.
My song is love unknown,
My Savior's love to me,
Love to the loveless shown
That they might lovely be.
This is the love revealed in the Old Testament Reading for today, a love that forgives iniquity, a love that remembers sin no more. If you are looking for variations on the Hymn of the Day, consider Donald Busarow's choral arrangement or Tyleen Stults's handbell arrangement.
Another hymn to consider for Lent 5 is "Christ Sits at God's Right Hand" (LSB 564). This hymn focuses on Jesus as High Priest and even speaks of Melchizedek, connecting back to the Epistle for Lent 5. Another hymn focusing on Jesus as High Priest is the Lord's Supper hymn "The Infant Priest Was Holy Born" (LSB 624).
Finally, I would consider any Lenten hymns you may have not sung yet this Lenten season. "Glory Be to Jesus" (LSB 433), "Come to Calvary's Holy Mountain" (LSB 435), and "A Lamb Goes Uncomplaining Forth" (LSB 438) are all good choices.
Additional Resources for Worship & Study
CPH Sunday School's Everyday Faith Family Page for could be useful for helping families reinforce the Old Testament Reading at home. And as we continue through Lent, the devotional book Return from Exile: A Lenten Journey can still benefit your congregation on their Lenten walk toward the cross and empty tomb.
---
Looking for additional information on planning for the Fifth Sunday in Lent? Download our planning sheet to help you get started!
Scripture quotations are from the ESV® Bible (The Holy Bible, English Standard Version®), copyright © 2001 by Crossway, a publishing ministry of Good News Publishers. Used by permission. All rights reserved.
Quotations marked LSB are from Lutheran Service Book, copyright © 2006 Concordia Publishing House. All rights reserved.