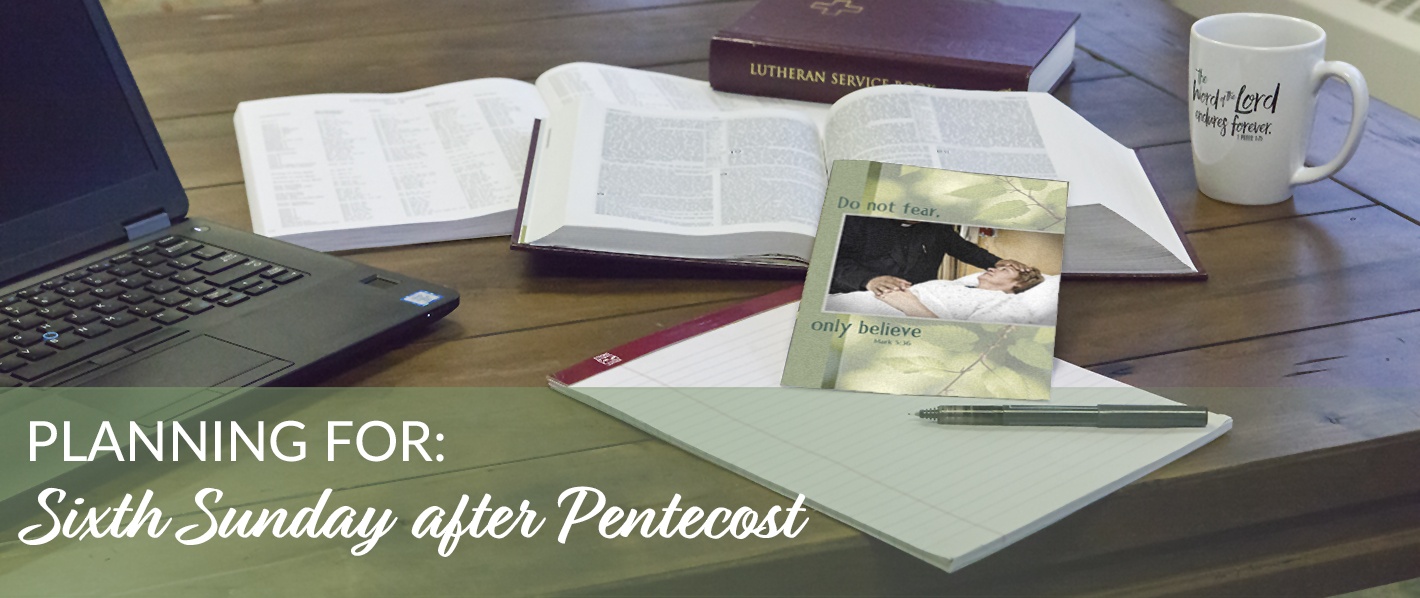 Learn more about the readings, music, and worship-service planning helps for the Sixth Sunday after Pentecost (July 1, 2018).
Season & Preparations
The season of Pentecost utilizes the color green. It is a season that is marked by continued insight into who our God is and how He reveals Himself in His Son, Jesus Christ. In the sixth week after Pentecost, the readings focus on generosity and compassion, both God's generosity and compassion toward us and the need for our generosity and compassion toward others.
Readings & Theme
View the readings on Lutheran Calendar >
The Epistle reading for this week continues our walk through 2 Corinthians. In this section from chapter 8, Paul seems to be calling out the Corinthians by sharing with them the example of the Macedonians. The Macedonian church was by all accounts poor, and yet, they give generously "in the relief of the saints" (2 Corinthians 8:4). Paul calls on the Corinthians to do the same. And yet he seeks to do so in a way that is "not as a command," but as an exhortation, an encouragement, a cheering on. It's hard for some people to hear about giving and generosity. Paul's words to the Corinthians in this section could perhaps be summed up as, "You got this!"
The Old Testament reading is one of the few times the lectionary draws from the book of Lamentations. Lamentations is a book of deep suffering. It was written by Jeremiah, who certainly knew what it was to suffer. Despite Jeremiah's life experience as a prophet who was rejected and ridiculed, he is still able to pen these words:
"The steadfast love of the Lord never ceases; his mercies never come to an end; they are new every morning; great is your faithfulness." (Lamentations 3: 22-23). God loves us with a love that remains constant and yet is new on a daily basis.
The Gospel reading from Mark 5 records two stories of Jesus' miraculous generosity. These two stories are interwoven together. A man named Jairus comes to Jesus, asking for Him to heal his daughter. Jesus follows Jairus, and a great crowd is stirred up since Jesus was becoming quite famous already. One woman in the crowd had suffered from a bleeding disease for 12 years. This woman reaches out in faith, hoping only to touch Jesus' garment, believing that would be enough to heal her. She was right. Jesus stops in the midst of the crowd to discover who had touched him, commending the woman for her faith. In the time Jesus takes to heal this woman and speak with her, Jairus' daughter dies. But Jesus continues on to Jairus' house and raises his daughter from the dead.
To me, these two miracle stories reflect Jeremiah's words in the Old Testament reading:
"For the Lord will not cast off forever, but, though he cause grief, he will have compassion according to the abundance of his steadfast love" (Lamentations 3: 31-32)
Undoubtedly, Jesus' decision to stop and heal a woman in the crowd caused Jairus and his family grief. They began the shocked, earth-shattering grief of losing a child. But Jesus has compassion. He undoes death for Jairus' daughter. But this defeat of death was only a foretaste of Jesus' own defeat of death when He rose on Easter morning. His resurrection foreshadows our own resurrections, which Jesus will effect when He returns in glory. We will all taste death. We will all experience grief when loved ones die. But God will have compassion and end our grief through resurrection.
Hymns & Music
The Hymn of the Day is "In the Very Midst of Life" (LSB 755). This Martin Luther hymn focuses on Jesus as the only hope we have in the midst of our enemies: sin, death, and Satan. Stanza 2 begins this way:
"In the midst of death's dark vale
Pow'rs of hell o'ertake us.
Who will help when they assail,
Who secure will make us?
Thou only, Lord, Thou only!"
Only Jesus can defeat death, slay sin, and silence Satan.
Another hymn to consider include "Take My Life and Let It Be" (LSB 783/784). This hymn connects with the Epistle reading as it focuses on the stewardship, not just of money, but of our skills, talents, and our very lives that are to be used in order to serve our neighbor.
Additional Resources for Worship and Study
As you work through Mark's Gospel in this Pentecost season, I highly recommend James Voelz's commentary on Mark 1:1-8:26.
One Arch Book to consider as you teach the Gospel story to children is Jesus Wakes the Little Girl.
---
Looking for additional information on planning for the Sixth Sunday after Pentecost? Download our planning sheet to help you get started!
Scripture quotations are from the ESV® Bible (The Holy Bible, English Standard Version®), copyright © 2001 by Crossway, a publishing ministry of Good News Publishers. Used by permission. All rights reserved.
Quotations marked LSB are from Lutheran Service Book, copyright © 2006 Concordia Publishing House. All rights reserved.