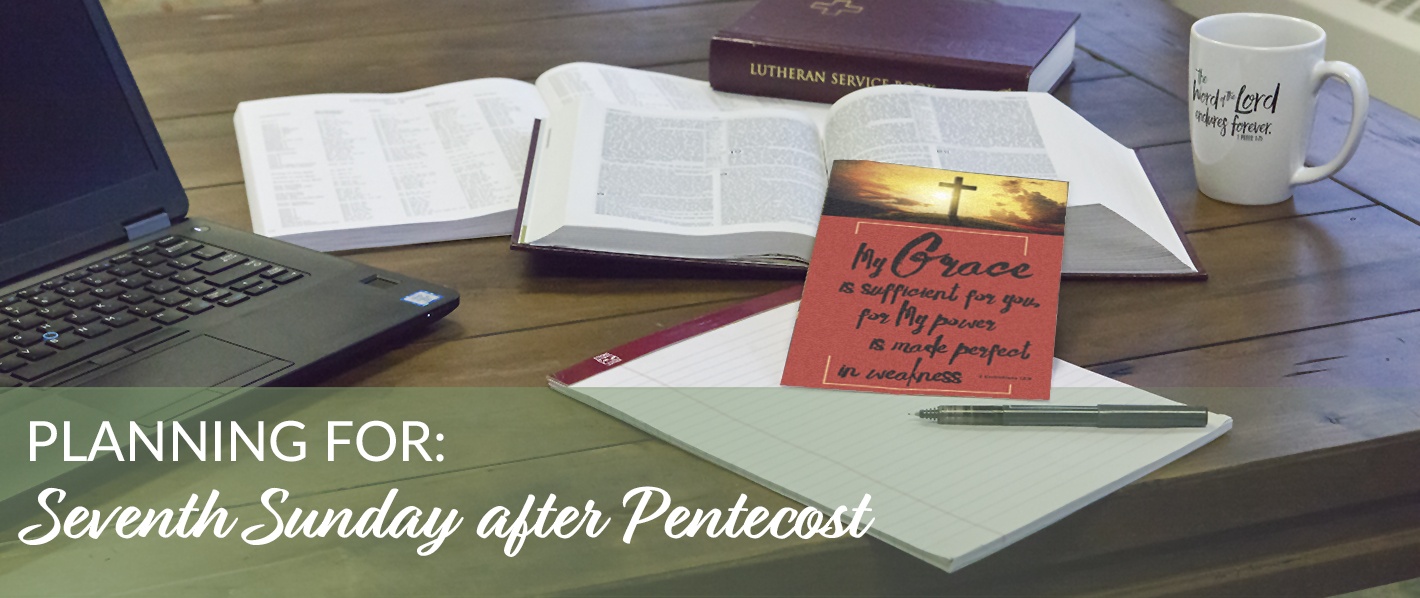 Learn more about the readings, music, and worship-service planning helps for the Seventh Sunday after Pentecost (July 8, 2018).
Season & Preparations
The season of Pentecost utilizes the color green, which, as we have noted in previous weeks, is a color that reminds us of growth. One of the ways we grow as we follow Jesus is by receiving the Word of God in its oral, written, and sacramental forms. The oral form of God's Word comes to us through prophets and pastors, through missionaries and evangelists. Today we see what happens when those God has sent to proclaim His Word are rejected.
Likewise, in today's Epistle, Paul speaks about a thorn in his flesh. Such struggles, whatever they may be, can help us grow more and more reliant on God's all-sufficient grace.
Readings & Theme
View the readings on Lutheran Calendar >
The Old Testament Reading records the call of Ezekiel to be a prophet of God. Ezekiel is called to proclaim God's Word to Israel, even though those people have become stubborn, impudent, and rebellious. God tells Ezekiel that regardless of whether Israel listens to him and obeys what he tells them, they will know that Ezekiel is indeed a prophet. They will know Ezekiel is speaking with the voice and authority of God. Rejecting Ezekiel will be tantamount to rejecting God Himself.
In the Gospel, the people of Nazareth do reject God Himself. They reject Jesus, which leads Jesus to utter these words: "A prophet is not without honor, except in his hometown and among his relatives and in his own household" (Mark 6:4). Then Jesus sends out His twelve chosen disciples to proclaim repentance, cast out demons, and heal the sick.
The Epistle concludes our walk through 2 Corinthians. You may notice that we have skipped a few chapters. The three-year lectionary does not contain readings from chapters 10, 11, or 13. Here in chapter 12, Paul speaks of a man being caught up into the heavens. Many scholars believe Paul is speaking about himself. Then Paul refers to a thorn in his flesh. Many have tried to guess what the thorn is, with everything from medical conditions to temptations toward a particular sin. Whatever the thorn was is less important than the reason it was given to Paul. Paul says, it was "to keep me from becoming conceited" (v. 7). And further, it leads Paul to hear this from God: "My grace is sufficient for you, for my power is made perfect in weakness" (v. 9). God sends many trials to keep us from being conceited, to remind us that His grace is sufficient. It does not matter what these trials are. What matters is that they turn us away from ourselves and toward Christ and His all-sufficient grace.
Hymns & Music
The Hymn of the Day is "O Christ, Our True and Only Light" (LSB 839). This text was penned by one of the great German hymnwriters of the seventeenth century, Johann Heermann. This hymn calls to those who are lost in a variety struggles, including those who sit in night, those who are far away from God and His Church, those lost in error, those whose minds are darkened by some delusion, those with an oppressed conscience, and those with weak and doubting hearts. The hymn is simply overflowing with care for those who have wandered from God and rejected His prophets and His Word.
Another hymn that connects very well with the Gospel is "O Christ, Who Called the Twelve" (LSB 856). It locates us among Jesus' disciples, His followers. As Christ called, taught, led, and sent the twelve, so we ask God to call, teach, lead, and send us into the world where Christ is Lord even when rejected.
Additional Resources for Worship & Study
As you work through Mark's Gospel in this Pentecost season, I highly recommend using James Voelz's Concordia Commentary: Mark 1:1–8:26.
As one can see from all three readings today, being a spokesperson for God is challenging work. Bruce Hartung's Holding Up the Prophet's Hand: Supporting Church Workers is an excellent resource for congregations who are seeking to help church workers deal with the stresses and struggles that come with being responsible for the spiritual care of others.
---
Looking for additional information on planning for the Seventh Sunday after Pentecost? Download our planning sheet to help you get started!
Scripture quotations are from the ESV® Bible (The Holy Bible, English Standard Version®), copyright © 2001 by Crossway, a publishing ministry of Good News Publishers. Used by permission. All rights reserved.