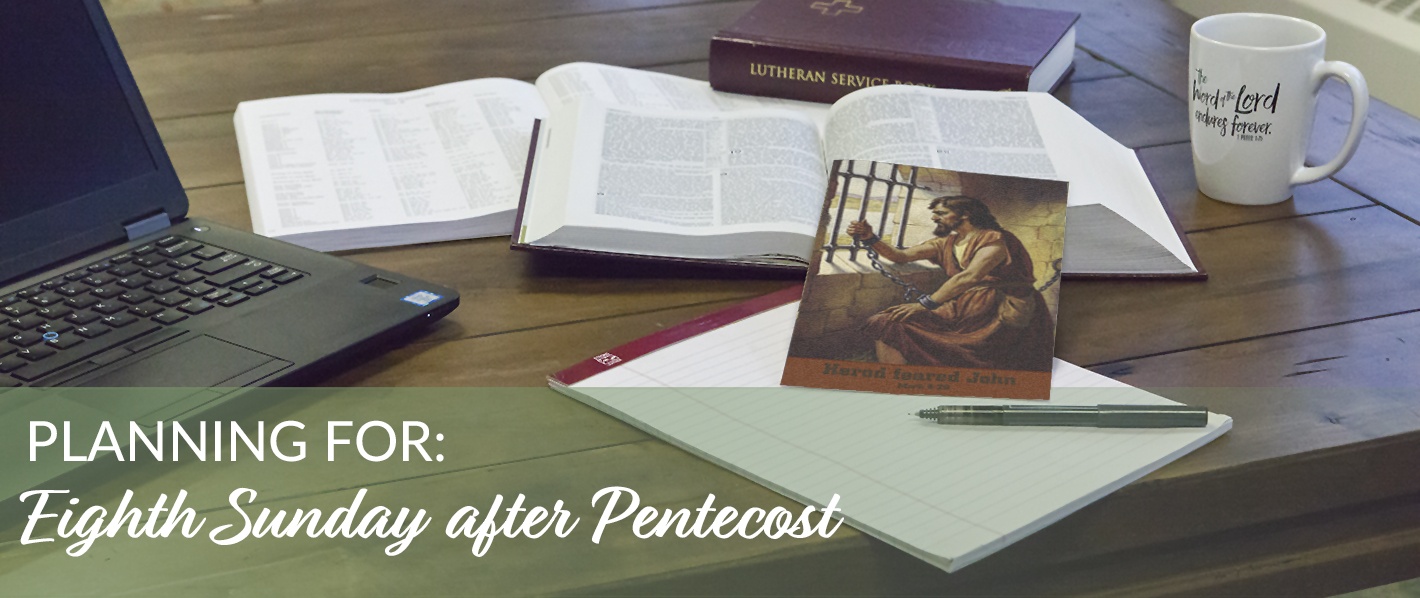 Learn more about the readings, music, and worship-service planning helps for the Eighth Sunday after Pentecost (July 15, 2018).
Season & Preparations
Sometimes when the Word of the Lord comes to people, they do not want to hear it. In his explanation of the Third Commandment, Luther relates keeping the Sabbath to hearing God's Word. Christ is our Sabbath rest. To despise preaching and God's Word is to live apart from the Sabbath rest God has given in Christ.
The green of the season of Pentecost reminds us of growth. Imagine a child who has not gotten enough rest. The child cries and screams and is entirely unpleasant until rest is finally his or hers. One cannot grow without rest, both physically and spiritually.
Gathered by the Holy Spirit for worship throughout the long season of Pentecost, come rest in God's Word. Come hear what His prophets and pastors have to say. They bring God's Word to us in oral, written, and sacramental forms. Come to Christ and His body, the Church, and find rest.
Readings & Theme
View the readings on Lutheran Calendar >
In both the Old Testament and Gospel for the Eighth Sunday after Pentecost, people do not want to listen to God's chosen prophets. In the Old Testament Reading, from Amos 7, we find Amaziah, a priest of King Jeroboam, trying to send Amos away. Amaziah doesn't like what Amos has said: the King is going to die and Israel will go into exile. Rather than heed these words of God, Amaziah simply tries to send Amos away. But God's Word is God's Word. Ignoring the prophet won't make God's Word any less true.
In the Gospel, from Mark 6, news of Jesus' fame and power has reached Herod. Herod is terrified because one of the rumors floating around about Jesus is that He is John the Baptist raised from the dead. Herod fears this because Herod himself ordered John's death. A resurrected John is bad news for Herod. Herod "heard him gladly" (v. 20) but was greatly perplexed by him, since John said Herod's marriage to his brother's wife was unlawful. Eventually, tricked by his wife and her daughter, Herod ended up beheading John. Herod thought God's Word had been silenced, but he now fears it will return. Of course, Jesus was not John the Baptist raised from the dead, but someone far greater, someone who not only spoke God's Word but was God's Word in the flesh.
The Epistle for the next eight weeks will be drawn from the Book of Ephesians. When confronted with God's Word, let us not be like Amaziah or Herod. Let us be like the church of Ephesus. For Paul writes, "In [Christ] you also, when you heard the word of truth, the gospel of your salvation, and believed in him, were sealed with the promised Holy Spirit" (1:13). God's Word comes to us, and we believe it, trusting in Christ, for "in him we have redemption through his blood" (1:7).
Hymns & Music
The Hymn of the Day is "Jesus, Priceless Treasure" (LSB 743). Stanza two of this hymn provides a faithful confession of resting in the Lord:
In Thine arms I rest me;
Foes who would molest me
Cannot reach me here.
Though the earth be shaking,
Ev'ry heart be quaking,
Jesus calms my fear.
Lightnings flash
And thunders crash;
Yet, though sin and hell assail me,
Jesus will not fail me.
We are in Christ. We rest in Him. Satan can attack us from every angle with every strategy, but we remain safe in and with Christ, for He will return and raise us to new life.
Other hymns to consider for today include "Lord, Keep Us Steadfast in Your Word" (LSB 655) and "Lord, Thee I Love with All My Heart" (LSB 708).
Additional Resources for Worship & Study
As you work through Mark's Gospel in this Pentecost season, I highly recommend using James Voelz's Concordia Commentary: Mark 1:1–8:26.
If you plan to work with the Book of Ephesians, I also recommend Thomas Winger's Concordia Commentary: Ephesians.
---
Looking for additional information on planning for the Eighth Sunday after Pentecost? Download our planning sheet to help you get started!
Scripture quotations are from the ESV® Bible (The Holy Bible, English Standard Version®), copyright © 2001 by Crossway, a publishing ministry of Good News Publishers. Used by permission. All rights reserved.
Quotations marked LSB are from Lutheran Service Book, copyright © 2006 Concordia Publishing House. All rights reserved.