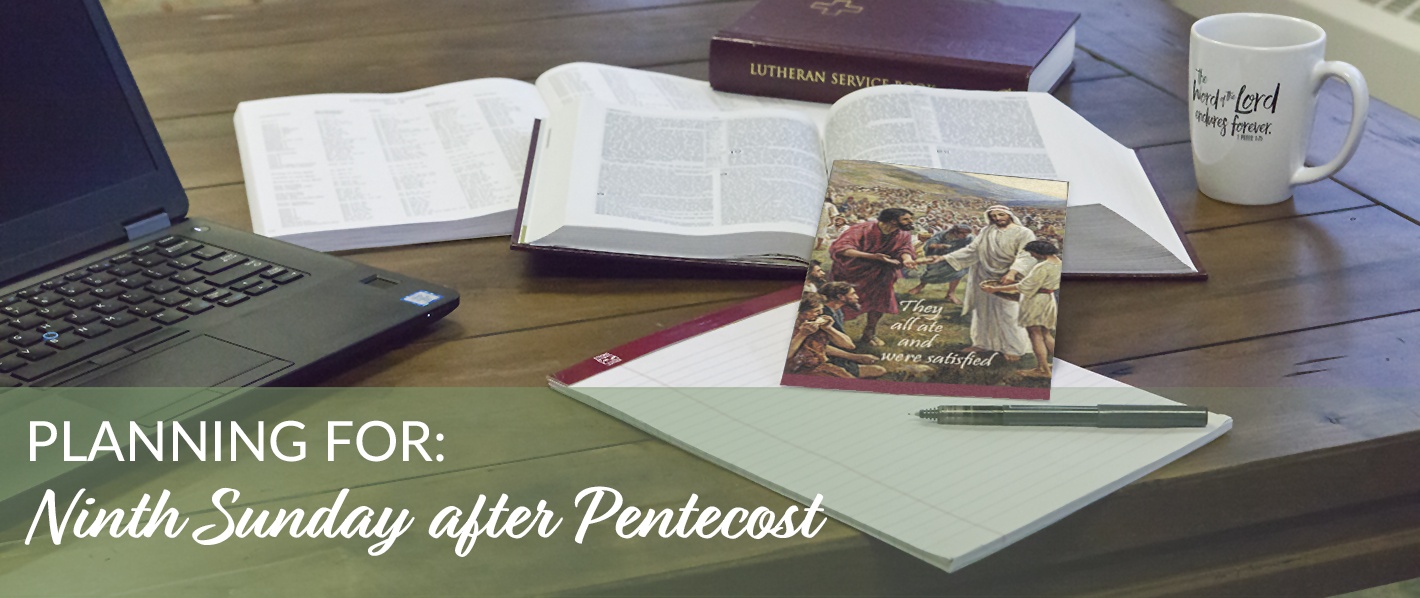 Learn more about the readings, music, and worship-service planning helps for the Ninth Sunday after Pentecost (July 22, 2018).
Season & Preparations
One of the most familiar passages of Scripture is the psalm for the day, Psalm 23. It begins, "The LORD is my shepherd" (v. 1). This metaphor is used numerous times throughout Scripture, including in the Old Testament Reading and the Gospel for the Ninth Sunday after Pentecost. The relationship between God and His people is one in which the people depend on God for everything. Sheep depend on their shepherd for everything. Sheep without a shepherd would be in a lot of trouble. They'd be vulnerable to predators. They'd be prone to wander into dangerous areas, drink poisonous water, and eat poisonous plants.
As Christ comes into our world, He does so as our Good Shepherd. Jesus will defend us against all danger. He will guard and protect us from all evil. Not only will He lead us to green pastures and beside still waters, but He will also lead us through death and into the joys of resurrection. As sheep, we follow the Good Shepherd, Jesus, because no one else knows the way out of the grave. Jesus has compassion on us and invites us to follow Him.
Readings & Theme
View the readings on Lutheran Calendar >
The theme for the Ninth Sunday after Pentecost is drawn from the Gospel for the day. In Mark 6:34, Mark records a rare instance of what seems to be Jesus' thought process, writing, "When he [Jesus] went ashore he saw a great crowd, and he had compassion on them, because they were like sheep without a shepherd." Sheep without a shepherd are among the most vulnerable of God's creation. Jesus shepherds them by teaching them, and then by feeding them all. Five thousand men were gathered (and who knows how many women and children), and Jesus feeds them all by multiplying five loaves of bread and two fish. Jesus not only leads these people to metaphorical green pastures, but He also provides a miraculous amount of food. He makes the pasture fruitful before their very eyes.
In the Old Testament Reading, God declares judgment upon those who were supposed to shepherd His people but have failed in their duties, who have scattered and destroyed His chosen people. But God promises to gather a remnant of the flock and multiply them, and set shepherds over them who will be good shepherds. Jesus is the epitome of the fulfillment of these words, which is seen clearly in God's promise to "raise up for David a righteous Branch" who "shall reign as king" (Jeremiah 23:5).
The Epistle continues walking through Ephesians for the next several weeks. There is no shepherd imagery in chapter 2, but Paul does draw on related themes of being far away and brought near, writing in verses 13 and 14, "But now in Christ Jesus you who once were far off have been brought near by the blood of Christ. For he himself is our peace." Jesus, as Shepherd, not only seeks out the wandering sheep who are far off but also brings them into His fold in an unexpected and extreme way: by dying for them. By the Shepherd's blood do the sheep find peace.
Hymns & Music
The Hymn of the Day is "The Church's One Foundation" (LSB 644). This hymn connects best with the Epistle with such lines as "With His own blood He bought her" (st. 1) and "She waits the consummation Of peace forevermore" (st. 4), which draw on verses 13 and 14 as mentioned above.
Other hymns to consider include "The King of Love My Shepherd Is" (LSB 709), "The Lord's My Shepherd, I'll Not Want" (LSB 710), and "Savior, like a Shepherd Lead Us" (LSB 711).
During the Lord's Supper, two hymns may help draw out shepherd themes: "Lord Jesus Christ, Life-Giving Bread" (LSB 625) and "You Satisfy the Hungry Heart" (LSB 641).
Additional Resources for Worship & Study
As you work through Mark's Gospel in this Pentecost season, I highly recommend using James Voelz's Concordia Commentary: Mark 1:1–8:26.
If you plan to work with the Book of Ephesians, I also recommend Thomas Winger's Concordia Commentary: Ephesians.
In teaching the Gospel of the day to children, consider the Arch Book What's for Lunch? There is also an Arch Book entitled The Twenty-third Psalm that may be useful.
---
Looking for additional information on planning for the Ninth Sunday after Pentecost? Download our planning sheet to help you get started!
Scripture quotations are from the ESV® Bible (The Holy Bible, English Standard Version®), copyright © 2001 by Crossway, a publishing ministry of Good News Publishers. Used by permission. All rights reserved.
Quotations marked LSB are from Lutheran Service Book, copyright © 2006 Concordia Publishing House. All rights reserved.