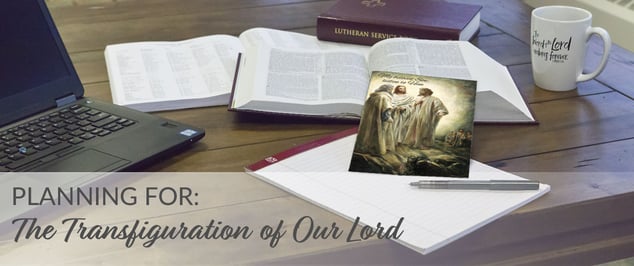 Learn more about the readings, music, and worship-service planning helps for the Transfiguration of Our Lord (February 11, 2018).
Season & Preparations
The season of Epiphany comes to a close with another episode of revelation regarding Jesus' identity. Jesus leads Peter, James, and John up a high mountain. There, He is transfigured before them. Moses and Elijah stand next to Jesus in His dazzling appearance. And a voice comes from the heavens saying, "This is My beloved Son; listen to Him" (Mark 9:7). This statement from God the Father reiterates the statement He made to Jesus at His Baptism at the beginning of the Epiphany season: "You are My beloved Son; with You I am well pleased" (Mark 1:11).
The color for Transfiguration is white to reflect the line from Mark's Gospel that Jesus' "clothes became radiant, intensely white, as no one on earth could bleach them" (Mark 9:3).
Remember that Epiphany 6, 7, and 8 are not celebrated in 2018 due to the date of Easter, so be sure to turn to the correct pages when preparing the lectionary book and the altar book.
In your preparations, note that there are two options for the Old Testament Reading: one about Moses and one about Elijah. Both readings are covered below.
Readings & Theme
One option for the Old Testament Reading is Exodus 34:29–35. This records how Moses' face "shone because he had been talking with God" (Exodus 34:29). Moses veiled his face when he was with the people because everyone was afraid to come near him. Paul picks up on this text in the Epistle, from 2 Corinthians 3 and 4, speaking of the veil that existed in the old covenant that is now removed in Christ.
The other option for the Old Testament Reading is 2 Kings 2:1–12, which records Elijah being taken up into heaven in a whirlwind in front of Elisha.
When choosing an Old Testament Reading, you may find the Exodus text fruitful if you wish to spend time unpacking the Epistle. If you plan to spend more time with the Gospel, either Old Testament Reading could be useful. While it may be a bit unusual, you may wish to read both Old Testament Readings (possibly in place of or in addition to the Epistle). This may help in pointing out that in Jesus' transfiguration, we see a brief example of how both the Law (Moses) and the Prophets (Elijah) point to Jesus.
The Gospel, from Mark 9, records the transfiguration event itself. Much can be done with this text, but don't overlook the final verse of the pericope, which says, "And as they were coming down the mountain, He [Jesus] charged them to tell no one what they had seen, until the Son of Man had risen from the dead" (Mark 9:9).
In the structure of the Church Year, Transfiguration is a mountaintop experience that foreshadows the mountaintop experience of Easter. Transfiguration closes the season of Epiphany, and now we head down the mountain into the valley of Lent, ever looking forward to Easter.
Hymns & Music
The Hymn of the Day is "O Wondrous Type! O Vision Fair" (LSB 413). The final two lines of this hymn share the Church's continued prayer as we wait for Christ's return:
We pray Thee, bring us by Thy grace
To see Thy glory face to face.
Other hymns for Transfiguration directly follow this one in LSB: "'Tis Good, Lord, to Be Here" (LSB 414), "Jesus on the Mountain Peak" (LSB 415), "Swiftly Pass the Clouds of Glory" (LSB 416), and "Alleluia, Song of Gladness" (LSB 417).
Personally, I like to sing many alleluias on Transfiguration since the custom is to not sing them throughout the Lenten season.
Additional Resources for Worship & Study
Transfiguration has a rich tradition of artwork connected to it, especially in the orthodox tradition. A quick image search may help you in your preparations. The piece Listen to Him is an example that is available from CPH.
In teaching the Transfiguration story to children, the Arch Book Jesus Shows His Glory may be a useful resource.
---
Looking for additional information on planning for the Transfiguration of Our Lord? Download our planning sheet to help you get started!
Scripture quotations are from the ESV® Bible (The Holy Bible, English Standard Version®), copyright © 2001 by Crossway, a publishing ministry of Good News Publishers. Used by permission. All rights reserved.
Quotations marked LSB are from Lutheran Service Book, copyright © 2006 Concordia Publishing House. All rights reserved.