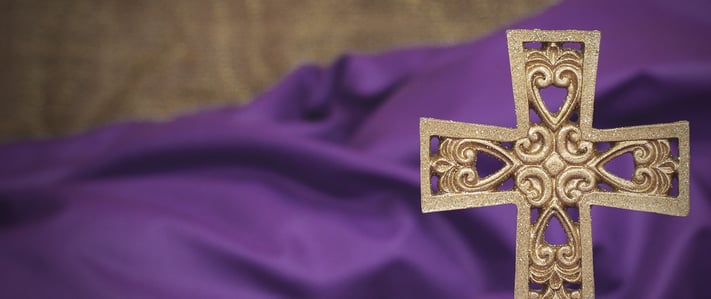 From Ash Wednesday to midweek Lenten services to Holy Week, the church office and altar guild have many preparations and duties in the coming weeks and months. Here are some things to keep on your radar so you can make sure they run smoothly throughout the Lenten season.
Communicate Early and Often
Due to the number of special services and events during Lent, it's important to distribute your midweek schedule as early as possible. Consider making a printout, bulletin insert, or downloadable that just lists the times of these special services. Remember to communicate through different mediums, including your bulletin, newsletter, email, and website.
Social media is also a key medium for church communications during Lent. Concordia Technology Solutions has put together some great posts by Rev. Daniel Ross on social media ideas for Lent that emphasize the importance of connecting with your members every day. Sharing simple prayers, graphics, or Scripture readings on a daily basis can help reinforce the message that members hear on Sunday mornings.
Prepare Materials for Bible Study and Sunday School
During Lent, church members often choose to take up additional devotional habits like prayer and Scripture reading. Weekly Bible study and Sunday School can be a great place to check in with these members and assist them during the forty days of Lent. If you've purchased a Lenten midweek series, make the Bible study notes and devotions available to your members as soon as possible.
Check to see if your Sunday School publisher offers any activities to teach kids about Lent—for example, download these free Lenten teaching tools, which include music and activity pages. If you are looking for something a bit more in depth, check out Church Year Connections for activities that coordinate with every week of the Church Year.
Browse Special Bulletin Selections
Each church has its own tradition and budgetary needs regarding special bulletin covers for Lent and Holy Week. After discussing these expectations with your pastor, be sure to leave yourself plenty of time to browse, review, and order new bulletins. This spring bulletins catalog provides an overview of all the new bulletins CPH is offering for Lent, Easter, and Holy Week.
Coordinate with the Altar Guild
There are many parament changes and service preparation and scheduling needs for the altar guild during the Lenten season. Be sure to set clear expectations about what tasks need to be accomplished, when they should be completed, and who will be the lead person responsible. A checklist like this one can be the first step in communicating these expectations clearly.
Once you've filled out the checklist, make sure the completed checklist is accessible to everyone in the church office and the altar guild. Post it online, distribute it via email, and keep a copy of it in the church office. Make sure everyone in the group has contact information and building access when they need it.
---
Looking for additional resources to help with your Lent and Holy Week preparations? Download our free Lent and Easter planning checklist for 2018.