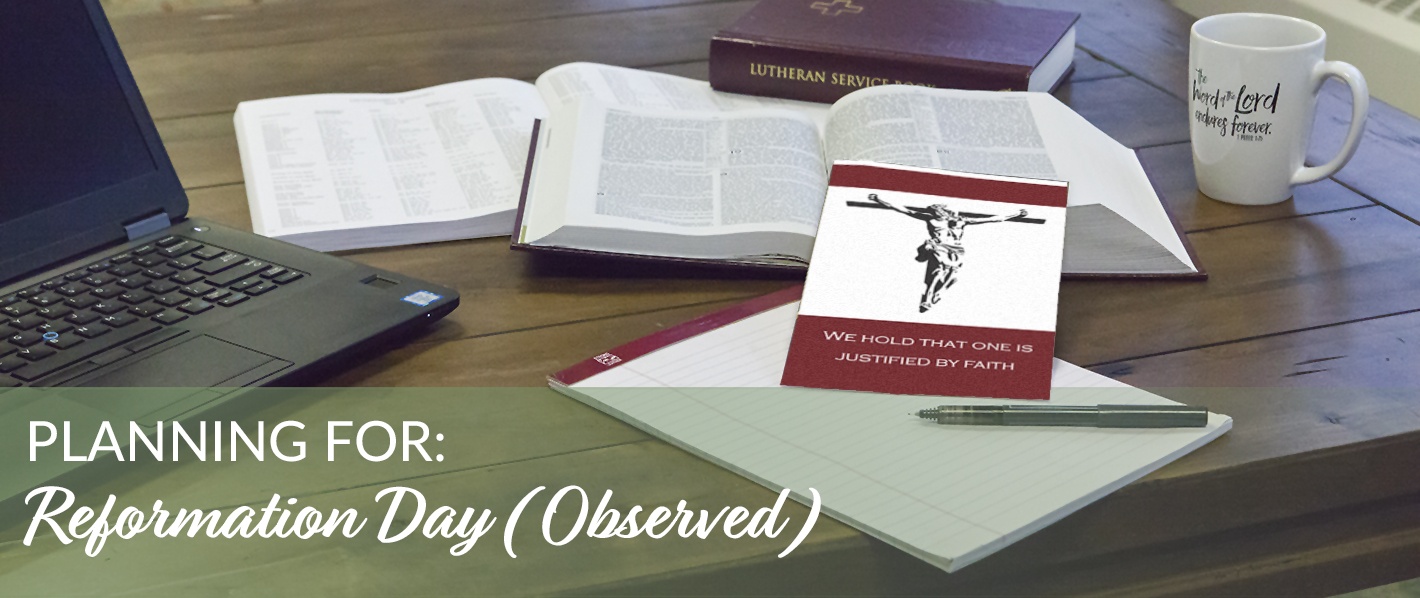 Learn more about the readings, music, and worship-service planning helps for Reformation Day (observed October 28, 2018).
Season & Preparations
In 2018, we commemorate the 501st anniversary of the Reformation. On (or at least sometime near) October 31, 1517, Martin Luther posted the Ninety-five Theses against the practice of indulgences, a practice the Roman Catholic Church had been using as a manipulative fundraiser. Luther's criticisms sparked the beginnings of a movement that sought to relieve the consciences of the common people by giving them the Gospel of Jesus Christ's death and resurrection. This feast day uses the color red and is typically celebrated on the last Sunday in October.
Readings & Theme
View the readings in Lutheran Service Builder >
The psalm for the day is Psalm 46. This psalm is the basis for Luther's most famous hymn, "A Mighty Fortress Is Our God." The psalm speaks to God's protection against Satan. God is our refuge, strength, help, and fortress. God is in our midst and God is with us. God is in control even when it looks like the world is falling apart.
The First Reading or New Testament Reading is from Revelation 14. In this section, the apostle John writes of an angel flying overhead with a Gospel message for all people from every tribe, nation, and language. One of the results of the Reformation was that Scripture, worship, and other educational materials were made available in the common language in numerous nations.
The Epistle is from Romans 3. Part of Luther's journey involved a reexamination of the phrase "the righteousness of God," which we see in this text (v. 21). Luther had stood in terror of God and His unwavering demand for righteousness, but as Luther studied Scripture, he began to see a God of love and forgiveness, a God who had actively sought out His fallen creation by the incarnation of His Son, a God who redeemed and justified His people by grace. It was a complete change in worldview. This passage from Romans 3 is a succinct depiction of the God that found Luther.
There are two options for the Gospel today. The first is from John 8. This reading focuses on our enslavement to sin and God's desire to free us in His Son, Jesus Christ, our Lord.
The second is from Matthew 11. This section gets at a core problem in religious people from Jesus' day to Luther's day to our day. We want to be in control. We want to wrap God around our finger and make Him do our bidding. We don't want God to be God. We want to be our own god. This plays out in the text as people think that because they play a happy song, one should dance, or if they play a sad song, one should mourn. But we don't dictate things to God. He is in control.
Hymns & Music
There are two choices for the Hymn of the Day, and I'd suggest using both of them. The first is Luther's "A Mighty Fortress Is Our God" (LSB 656/657). There is occasionally some tension in congregations as to which version to sing. I have no suggestion as to one being better than the other; just be aware people may have strong preferences. One option might be to use one version for Reformation Day and the other for Lent 1 when it is the Hymn of the Day once again.
The second Hymn of the Day is "Salvation unto Us Has Come" (LSB 555).
Another hymn I like to include for Reformation celebrations is "Lord Jesus Christ, with Us Abide" (LSB 585). Stanza six fits the Reformation themes magnificently.
Stay with us, Lord, and keep us true;
Preserve our faith our whole life through—
Your Word alone our heart's defense,
The Church's glorious confidence.
While there are numerous Reformation-era hymns, many penned by Luther himself, this is one of two hymns in LSB that is at least partially attributed to Philipp Melanchthon, author of the Augsburg Confession and one of Luther's most trusted friends.
Additional Resources for Worship & Study
Dozens of resources were made available last year to commemorate the five hundredth anniversary of the Reformation, from gifts to books to new hymns. Two creative resources that may help teach Luther's story to children and teenagers are Luther: Echoes of the Hammer and Katie Luther: Mother of the Reformation. Both are presented in a comic book style known as a graphic novel.
---
Looking for additional information on planning for Reformation Day? Download our planning sheet to help you get started!
Scripture quotations are from the ESV® Bible (The Holy Bible, English Standard Version®), copyright © 2001 by Crossway, a publishing ministry of Good News Publishers. Used by permission. All rights reserved.
"Lord Jesus Christ, with Us Abide" hymn text is © 1982 Concordia Publishing House. All rights reserved.